Subject To Change: Art in the Time of the Pandemic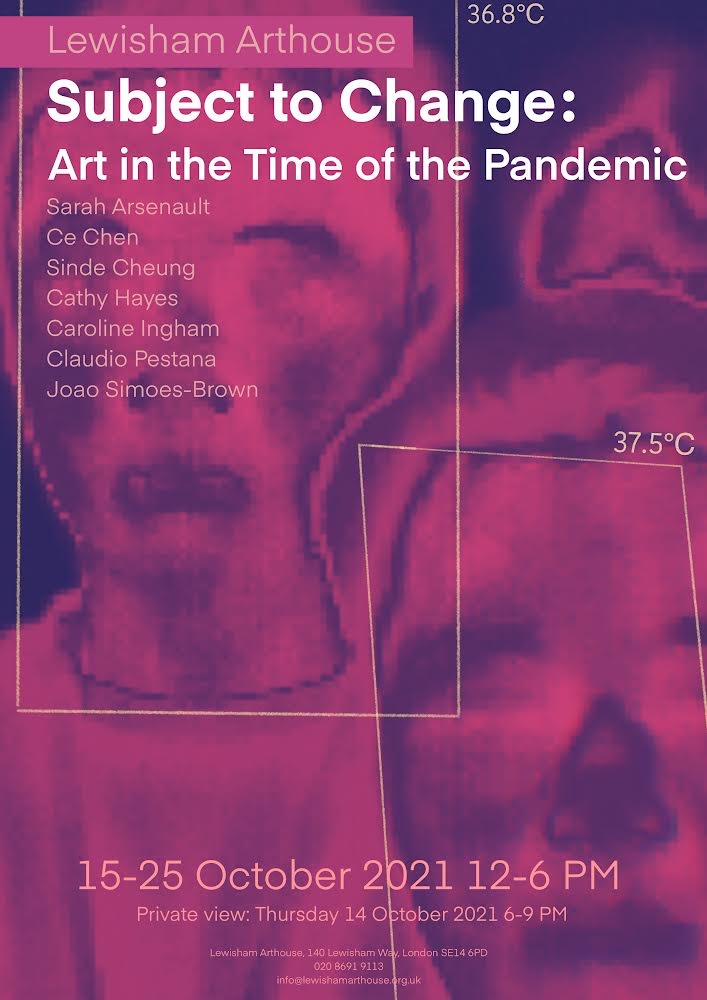 14th October 2021
Sarah Arsenault – Ce Chen – Sinde Cheung – Cathy Hayes – Caroline Ingham – Claudio Pestana – João Simões-Brown
15 – 25 October 2021
Private view: Thursday 14 October 2021, 6 – 9 PM
'Subject to Change' brings together the work of seven emerging international artists responding to our ever- changing political and physical environment where identities and the politics of memory keep being re- negotiated. With social and political volatility heightened, this exhibition by a group of Postgraduate alumni from Camberwell College of Arts pertinently questions the symbolic capital attached to established cultural myths, interrogates the on-going struggles in contemporary geopolitics and de-constructs the embodiment of gender and identity.
Much like the menu in a pub, where the artists came up with the premise for the exhibition, all life is subject to change, and this show is a reminder that nothing is set in stone – even public statues do not last forever. Power changes hands and simultaneously art provides us with the inspiration to challenge oppressive narratives. In this exhibition a multidisciplinary group of artists comes together to show a body of work that examines both the histories of art and contemporary socio-political discourses.
In this show one can feast on the marvel evoked by the eclectic presentation of painting and sculptural works. From Ingham's 'Enfleshing' sculpture group of distorted embodiments suspended from wire hangers on a clothes rail, casting shadows on the surrounding walls, to Chen's hovering paintings employing natural processes of oxidisation to depict the ephemeral elements of the Cornish landscape, the certainty of change is ever present – be it physical, social or political.
Whilst in her 'Pieta' paintings Hayes examines how feminine identity has been depicted throughout history and offers us a group of fluid figures in domestic settings, in 'Fag Has an Audience' Pestana invades the grand houses of the landed gentry and re-interprets the tradition of the interior portrait, populating the pictorial space with his Fag identity and references to landscape and social class.
Change is also evident in Cheung's 'Merry Christmas', where a Christmas tree, which was set on fire in a luxury mall in Hong Kong in December 2019, unsettlingly represents democratic instability.
Simões-Brown presents us with 'Instar', a reference to the stages of development between moults of the arthropods, and Arsenault explores humanity's vulnerability as a species in 'Survival of the Fittest', 'Extant', and 'The Healing' – both artists also examining the ever-constant presence of change.
For more information check out the Booklet or Press Release
sarah3arsenault
cechenpaints
s1ndecheun9
oreillyhayes_art
carolineingham_paintings
cmdcp
joao.simoes.brown
Springing from a chance viewing of Ru Paul's Drag Race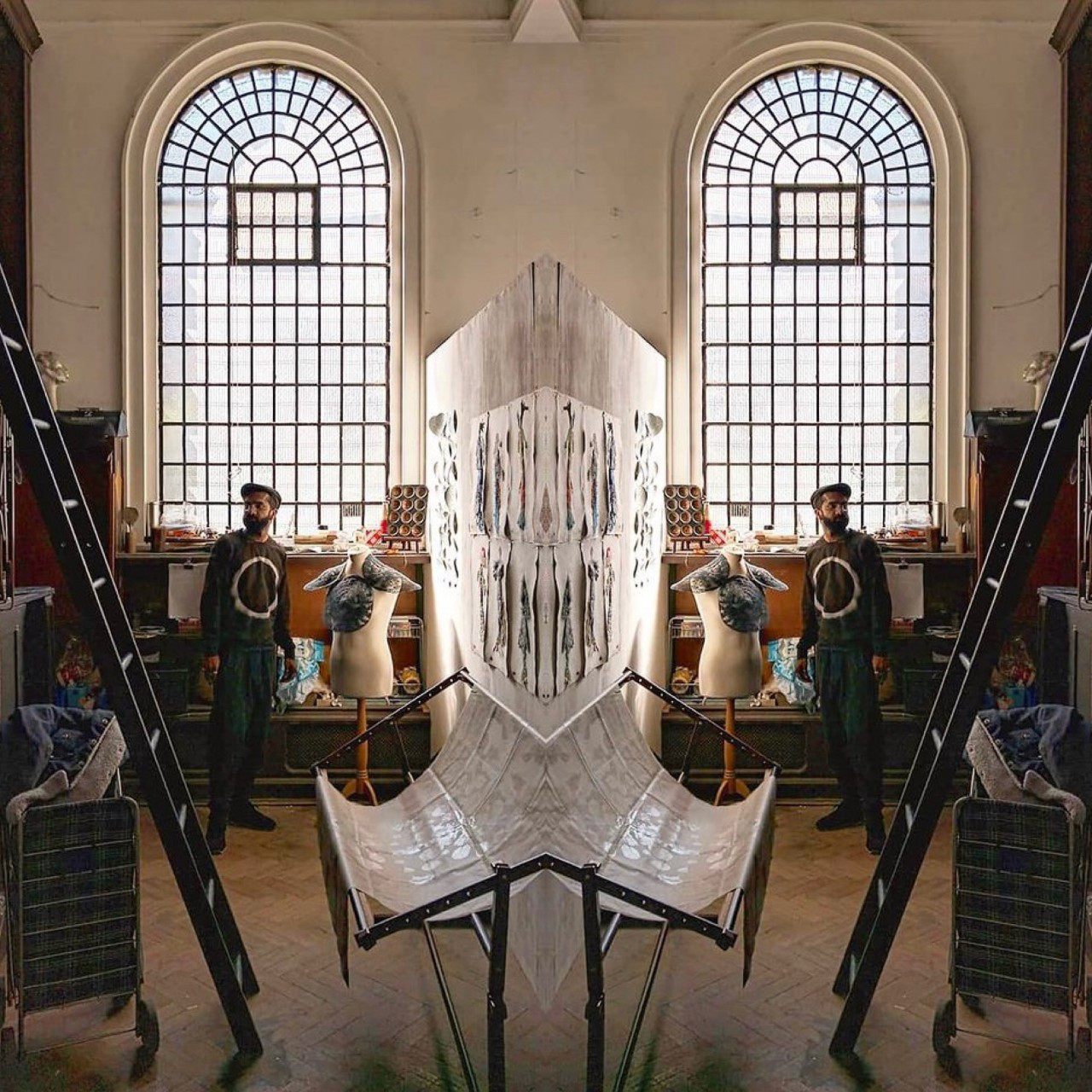 9th December 2021
Private View – 10/12/21 6-9pm
Opening 09/12/21 – 13/12/21 12-6pm
Springing from a chance viewing of Ru Paul's Drag Race, 2020 is a twenty-piece embroidery collection by the award winning mixed media artist Palvinder Nangla. The twenty looks on display are a series of intricately constructed drawings of drag outfits, comprising a variety of textiles and materials that showcase Nangla's skilful handwork. The collection examines gender from a British Asian viewpoint while also provoking a discussion about the use of drag and where it is heading.
'I never had a TV, but last year I gave Netflix a try, and got introduced to this programme (Ru Paul's Drag Race)… there's a scene in it where a performer gets voted off and they look at themselves in a mirror and write something on it in lipstick, and I found that image so powerful that it gave me the impetus to go and do a collection.'
Showing in the UK for the first time Nangla's creations have previously been exhibited in exclusive trade fairs in New York, Frankfurt and Beijing.
Proposals
The Project Space is run with the aim of providing affordable exhibition space and a platform for emerging artists, community groups and those who have been unable to find support/space through traditional gallery routes. In doing this we hope to provide a vibrant program of exhibitions for our local community, creating an opportunity for people to enjoy, discuss and engage with contemporary art in an informal and accessible setting. Alongside the program of hire shows we also facilitate larger projects and residencies that focus on our core aims of outreach and community engagement. We are always interested to hear from local artists, curators and community groups with proposals for larger projects or who are interested in forming creative partnerships with the Arthouse.
Lewisham Arthouse is committed to ensuring our Project Space is accessible for anyone to hire. We acknowledge that social barriers may influence participation in, and enjoyment of the arts. In an effort to address this in our local communities, our application process is open to everyone, regardless of age or educational background. We particularly welcome applications from non-white, Black, Asian and minority ethnicity individuals and groups.
Lewisham Arthouse is now accepting exhibition proposals for the Project Space 2022.
In 2022 Lewisham will be the London Borough of Culture and we will be looking to prioritise local talent and local issues in our programming. We are particularly interested in hearing from local artists, community groups and projects who share the key themes of this year's festival:
We will protect this place we love – A call to action on the climate emergency
We are strengthened by our diversity – A celebration of our borough of sanctuary
We will be happy here – A commitment to building an inclusive society, working together to deliver change.
Lewisham Arthouse is an artist-led cooperative and our project space is run with a focus on providing opportunities for emerging artists, local community groups and people otherwise underrepresented in the art world. Our aim is to provide local audiences with an engaging, expansive and accessible exhibition program from across all artistic mediums.
In the past we have hosted solo exhibitions by up and coming artists such as Karen Maclean and Emma Cousins, exhibitions by local primary schools Myatt Gardens and Beecroft and events such as the banquet dining experiences of The Groundnut or the performances of our 2019 project space residents Decolonising the Archive.
View Project Space application form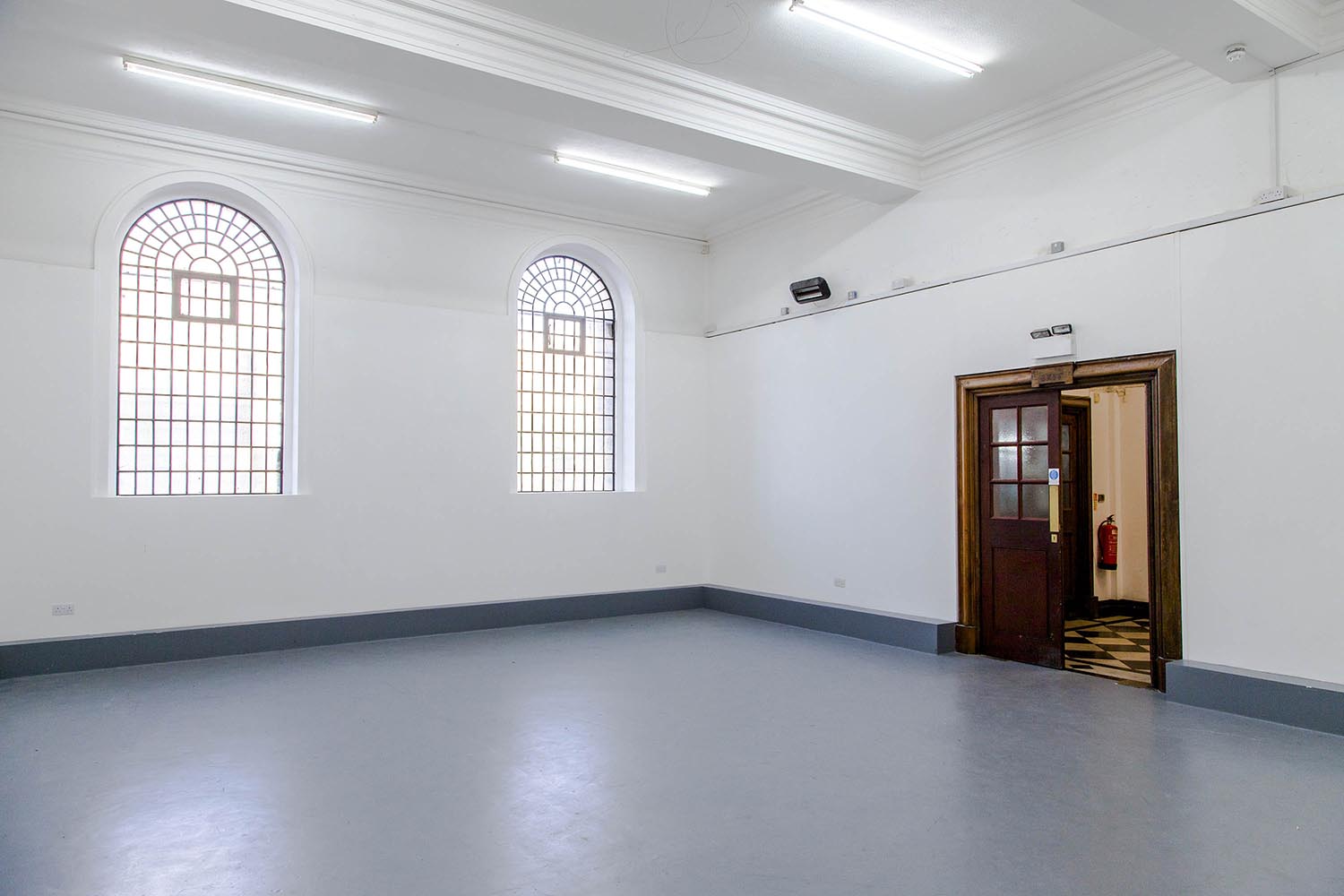 Image credit: photo Francesca Oldfield
We would like to highlight that dates are subject to change due to the coronavirus pandemic and prioritising cancelled exhibitions. Please bear with us as the situation develops. Moving forwards, we will be working to accommodate exhibition proposals in line with social distancing guidelines recommended by the Government. If you have any questions please contact us at projectspace@lewishamarthouse.org
Hire Fees:
1 week = £250
2 weeks = £400 (making it £200 per week)
3 weeks = £550 (making it £183 per week)
4 weeks = £680 (making it £170 per week)
Charities, schools and non profit organisations are entitled to 25% discount.
Send your applications to:
Project Space
Lewisham Arthouse
140 Lewisham Way
London SE14 6PD