Performance Special!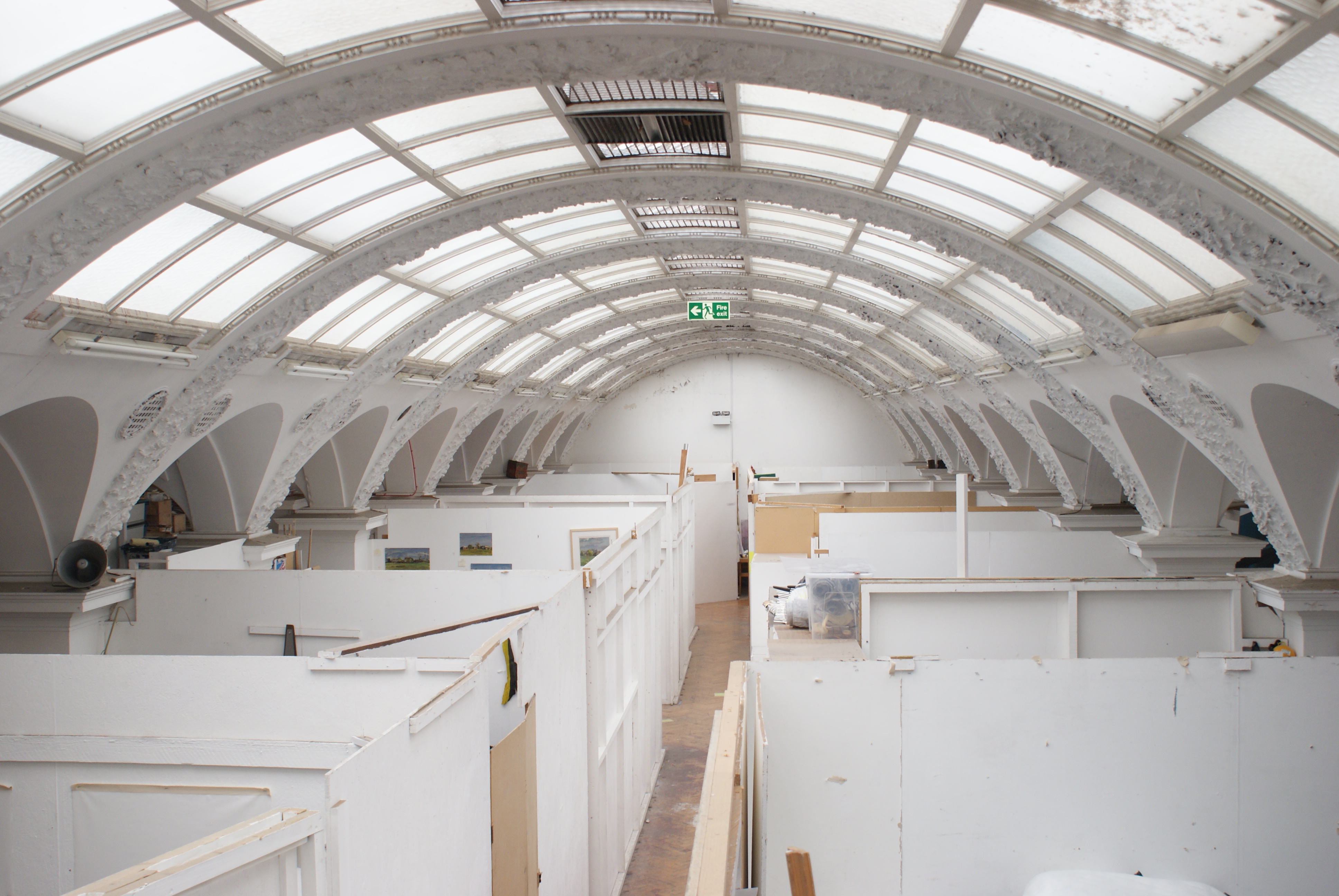 30 September – 1 October 2017

We are super excited to have four performances/lectures over the course of the Open Studios weekend on 30 September to 1 October.

Please meet in the foyer and we will take you to the location of the performance.

Saturday 30th 1pm
We have the very talented Kerri Jefferis and Sophie Chapman, last year's graduate studio award winners and they now have a membership with us. The two artists will embark on Behavioural Training for Astronauts for Earthlings. They describe it as ' an experiential situation, hosted on our dear planet, aimed at outer space. It introduces and prepares rookies to new notions not often present on earth such as; supporting others, avoiding or negotiating high risk environments, elements of self care and hygiene as well as vital space skills such as communicating across cultural differences.'

Saturday 30th 6.30pm
We have the debut performance of 4 Brown Girls Who Write – please join us in the garden for a reading of poetry by 4 brown girls, who er… write!

Saturday 30th 7pm
A live performance by Heart of Steel, a South-East London based steel band who will be there to warm us up before the garden party in the evening, where we will have music and jerk chicken being served!

*

Sunday 1 October 2pm
We have Chris Alton delivering a short performative lecture in his ground floor studio, on 1960s rhythm 'n' blues band Trident, drawing on the blog of Ben Ford. Trident were popular in Central America and the Caribbean from the mid-60s through to late-80s, when they vanished under mysterious circumstances. Ford's blog traces their story and investigates their disappearance.

Sunday 1 October 3pm
Ruth Beale will do a reading from FFWD the Revolution (2014) which charts the the history of the Lewisham Arthouse building, the uses of each space, and the political ambitions of its occupants. Combining new writing and archive material, the work encounters presence and absence, ambition and legacy, from the Carnegie endowment to 75 years of public library service, from a brief occupation in the early 90s as a venue for raves to community protest, and the last 20 years' tenure as an artists' studio cooperative.

Combined with timed tours at 2pm and 4pm each day by artists to the artists where you are free to ask questions and explore the building!

Hope you can join us!
FREE MOVEMENT OF CULTURE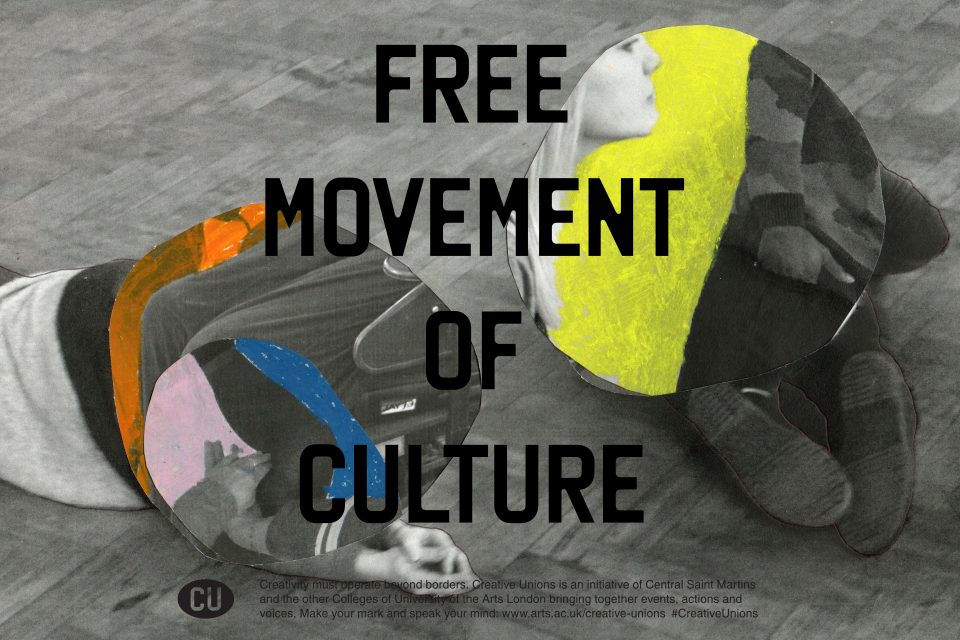 13 – 14 September
Creative Unions: Free Movement of Culture –
Registration now open
!
Lewisham Arthouse Project Space, 140 Lewisham Way, London SE14 6PD
13 and 14 September, 2017
14:00 – 22:00 (13 September); 10:00 – 13:00 (14 September)
Borders are a concept and a reality that restrict and permit people in different measure. Physical, social, psychological, they hold slow and they hold fast.
Creative Unions: Free Movement of Culture is a two day international artist gathering where the only desire is to make space to ask questions and share different forms of knowledge about what is proximate to us now; culturally, socially, historically, geographically, personally and politically. And it invites you. In fact, it invites you plus one.
CUFMC is a platform and exchange where individuals occupy space/s, sound and listen. It welcomes self-defining recent graduates to produce, provoke and participate in a convivial space where discussion around cooperation and cultural agency foreground any objects, images or situations we might create.
CUFMC is an open forum for sharing and debate rooted in the experience of cultural producers as active, global citizens with common insights, intentions and senses that unite; even when interpretations are undecided or conflicted.
The hosts, (Sophie Chapman and Kerri Jefferis, Paul Haywood and Basia Sliwinska) actively welcome marginalised voices and those interested in maintaining and extending cultural freedoms beyond the reach of political institutions.
CUFMC asks you to:
Bring a friend, colleague, family member or associate based in/from another country than you. You can bring them: in person, through social media, on the other end of a phone, through collaboratively produced content, an effigy or any objects you want to bring or any other way you can think of that might represent them in the space.
Plan something to share. Such as: a game, a rant, a movement, a song, a story, an image, an art, an object, a recipe etc. It could be something you want to say, or to try out with others. It should be something that allows you and others to gain knowledge or experience and bring you into contact with new ideas, concepts, realities etc – responding to the ideas raised in the blurb. You can specify what this is in the registration form.
Be available 13/14 September, 14.00-22.00 and 10.00-13.00 respectively.
Deadline:
Participants are asked to register before 5th of September for the event via an online form here:
Creative Unions: Free Movement of Culture – Registration now open!
13 and 14 September, 2017
14:00 – 22:00 (13 September); 10:00 – 13:00 (14 September)
DISTURBED, HACKED, REASSEMBLED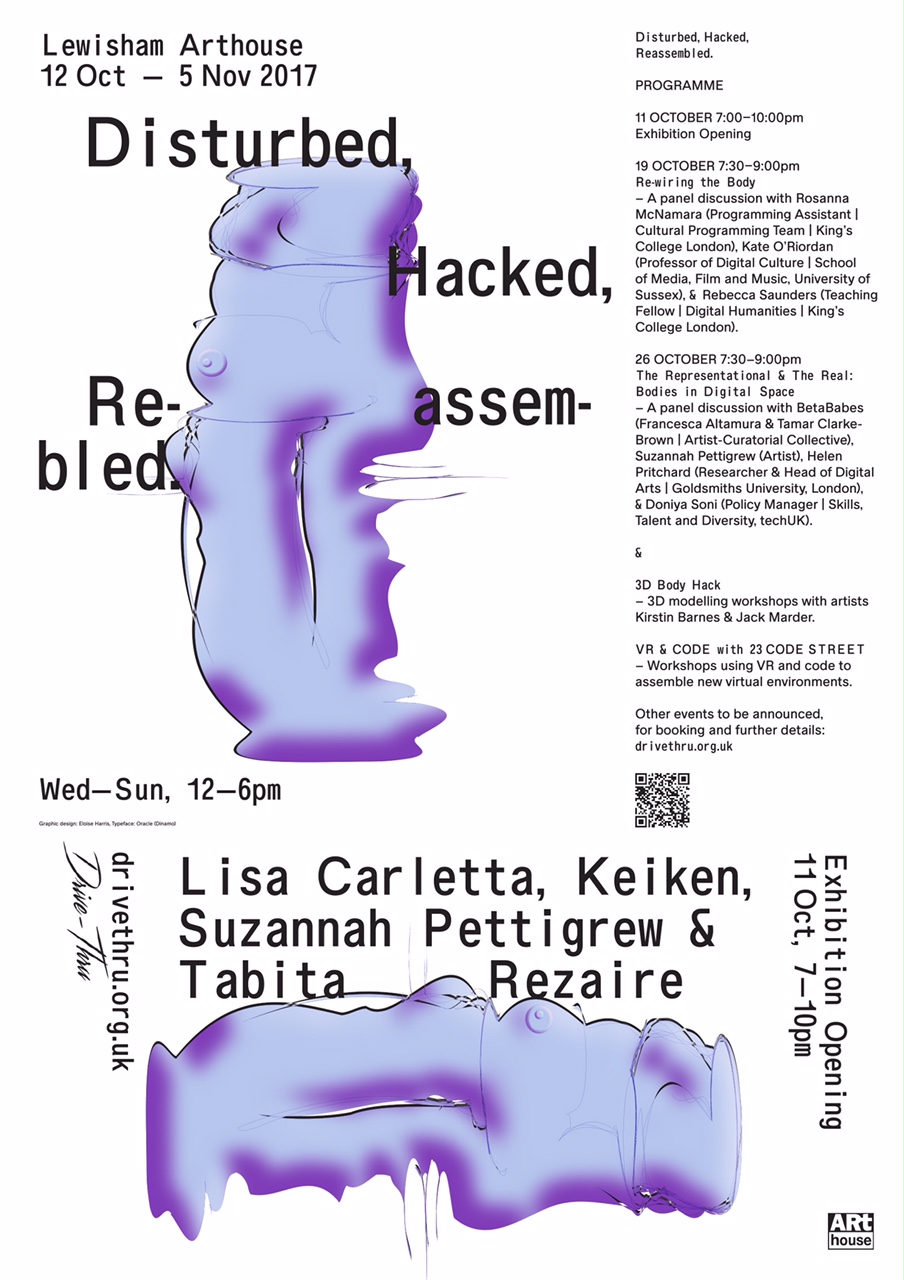 12 October – 5 November 2017
DISTURBED, HACKED, REASSEMBLED
12 October – 5 November 2017, Wed-Sun 12-6pm
Opening: 11 October 2017, 7-10pm
Lewisham Arthouse, 140 Lewisham Way, SE14 6PD
LISA CARLETTA
KEIKEN
SUZANNAH PETTIGREW
TABITA REZAIRE
 
Disturbed, Hacked, Reassembled explores how artists today are employing technology to stage, interrogate and celebrate the digital female body. Disturbed, hacked, and reassembled, the body is being experienced in new ways digitally and virtually.
 
Central to feminist critiques of sex and gender, the body is the site of visual difference and it is through the body that difference is experienced and lived. The development of technology and the inception of the Internet have opened up online spaces and virtual worlds that are inhabited by interactive avatars, orbiting 3D body parts and user generated identities. Disturbed, Hacked, Reassembled reflects on these developments and our enduring fascination with the posthuman. Are new technologies helpful for our understanding of gender or do they perpetuate traditional concepts of masculinity and femininity? Are subject and object fixed positions or can they be challenged by embodying the virtual? What do new imaging technologies mean for the representational and the real? By exploring a range of subjects including 3D digital modelling, the virtual body, the dissemination of the female image and digital healing, the project asks, what are the limits and freedoms of the digital body?
 
The exhibition presents new and existing works by three artists and an artist collective spanning moving image, virtual reality, animation and video installation. 'Paradise Found' (2017) by Lisa Carletta uses 3D scanning technology and animation to explore the disintegration and reconstruction of identity, the body and the digital self. She presents a digital avatar of herself which resists the body image ideals that are advanced online in 3D CGI image libraries. The reality of representation is also explored in Suzannah Pettigrew's 'IC€Y' (2017), a four channel video installation that explores the fragility of social currency. Hierarchical systems and iconographies of the female experience are investigated and dissected using footage sourced online. Content is reassembled and assigned new forms, the video of a video of a video, information on information on information. Keiken present 'Silicone_Animism | The Birth of Mother Digital' (2017), an interactive installation where the cybersoul contracts in the interuterus. VR, video and sound trace the birth of the digital, a giant networked space fused with human interaction and technology. Advancements in technology are also investigated in 'Sugar Walls Teardom (Homage To Dark Labia)' (2016) by Tabita Rezaire. The work explores the contributions of black women's wombs to the advancement of modern medical science and technology. The work attempts to heal exploited and abused female bodies and celebrate womb technology through an account of coercive anatomic politics. 
Disturbed, Hacked, Reassembled also plays host to a programme of performance, discussion and workshops. Speakers from a range of backgrounds will exchange ideas surrounding the posthuman, the cyborg, digital eroticism, feminist digital art practices and the augmented body, as well as the gender gap in the world of technology, female representation online and the importance of digital exchange. Workshops led by artists and tech professionals give participants an opportunity to use the latest technology to reassemble, recreate, repurpose or resist their own ideas around gender, race, sexuality and the body.
By presenting these works together, alongside a programme of performance, discussion and workshops, Disturbed, Hacked, Reassembled demonstrates how the site of the female body, in a digital era, continues to pose important questions around commodification, gender binaries, representation, sexuality and race. As the discourse surrounding these subjects continues to develop, the project creates a space for reflection, a platform to disturb, hack and reassemble existing conditions and newfound knowledge.
Disturbed, Hacked, Reassembled is curated by DRIVE-THRU with thanks to Lewisham Arthouse.
Project Space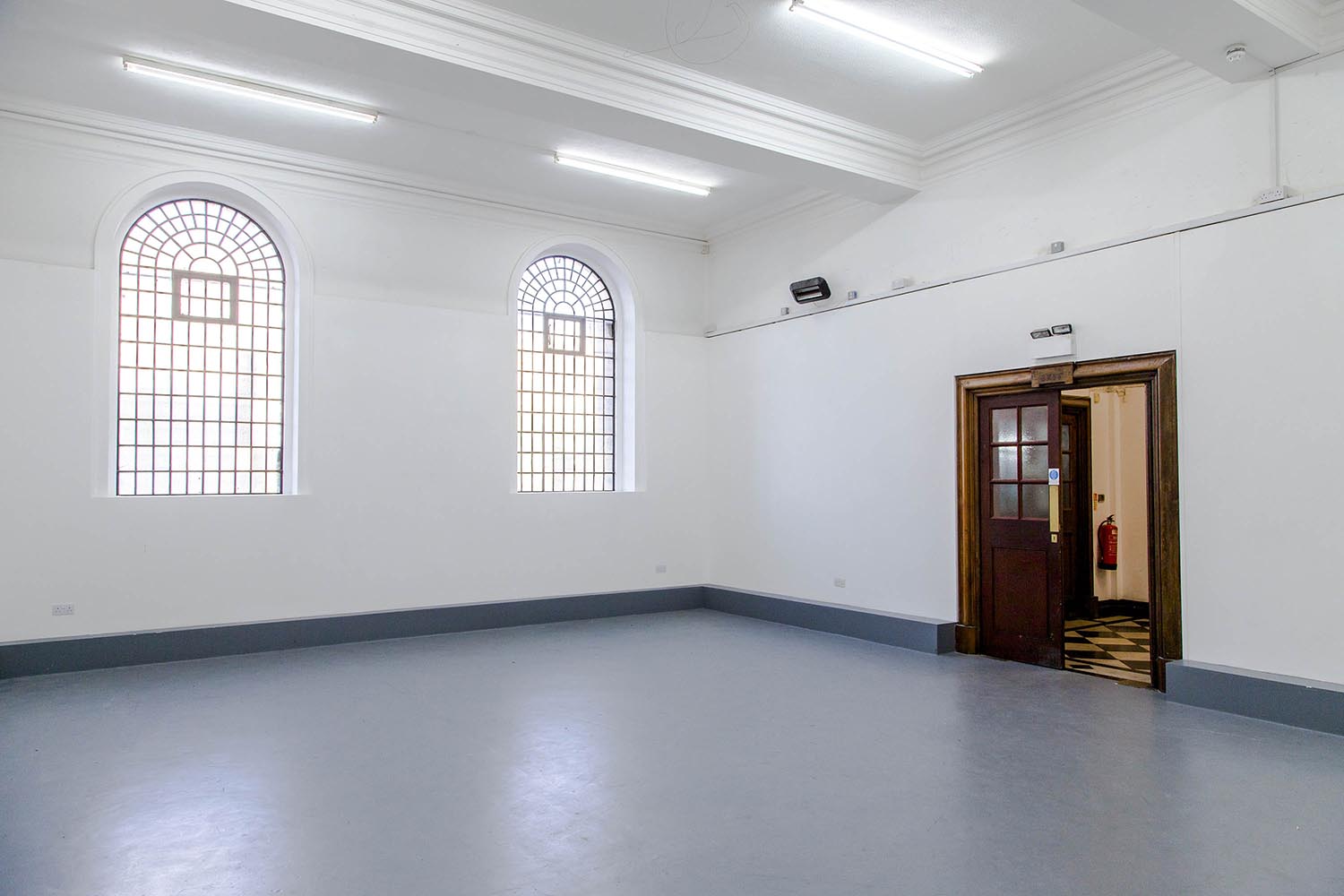 Image credit: photo Francesca Oldfield