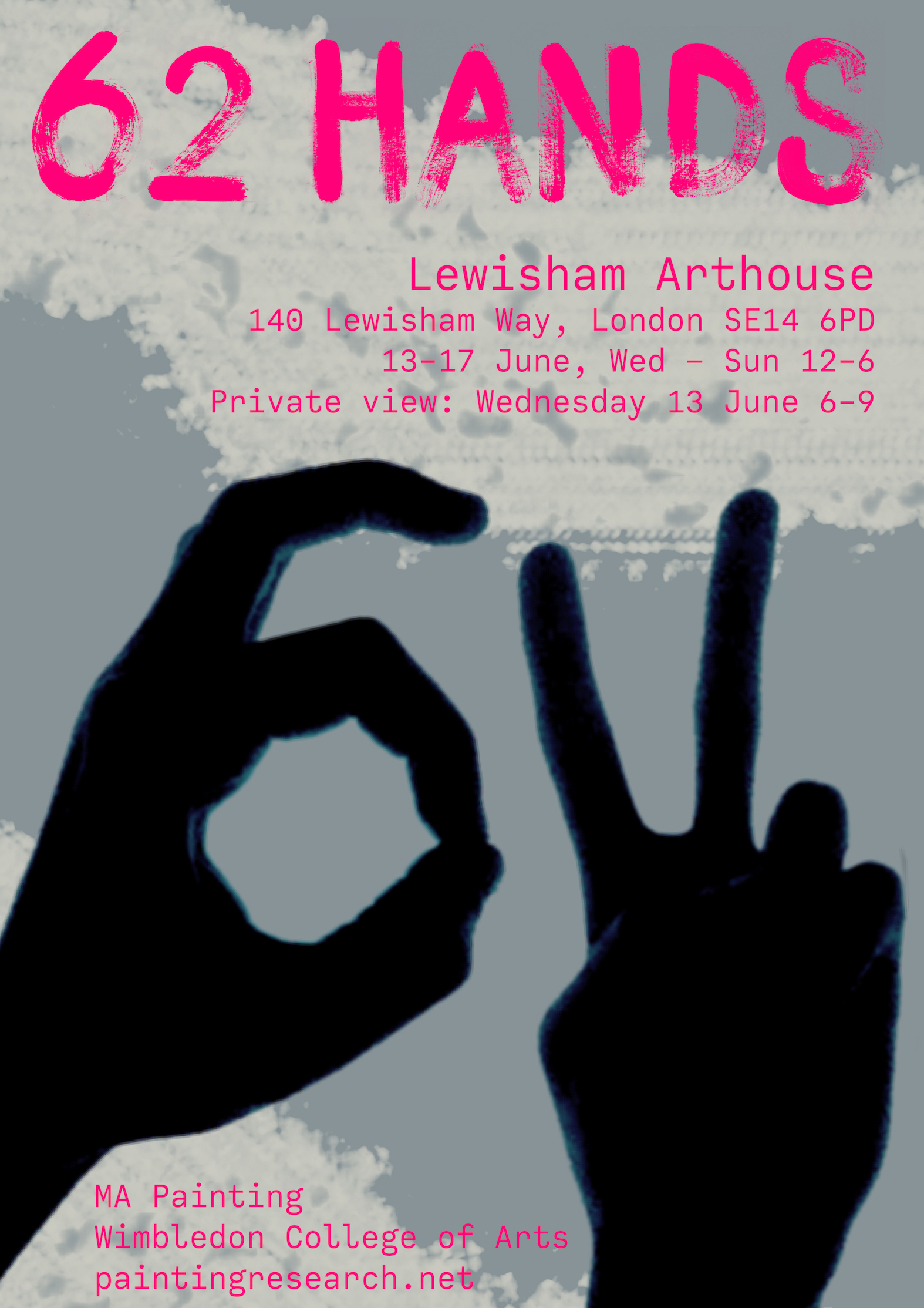 13th June- 17th June 2018
62 Hands
Wimbledon MA Painting interim show
Lewisham Art House Project Space
140 Lewisham Way, London SE14 6PD
Exhibition open: 13-17th June,
Wed – Sun 12-6pm
Private view: Wednesday 13 June 6-9pm
31 painters
62 hands
Works no larger than 12"
The work of these emerging artists centres on ideas as diverse as the myths, histories and politics of the North Caucuses; the overlooked spaces of the tourist trail; the anti-history paintings of modern India; the colonial histories of the British landscape garden; ruined industrial spaces and liminal wastelands; plant/human hybrids; anthropomorphism and fictional beasts; geology and alchemy; the erotic imagery of the Golden Lotus and the female protagonists of contemporary fairy tales.
Artists: Shuaa Alrasheidi, Emma Brassington, Daumants Brunins, Jack Candy-Kemp, Sirius Chan, Gabriel Chaim, Yue Chen, Sean Coates, Luísa De Castro, Maria Del Pino Cornejo, Nik Cross, Oliver Dorrell, Amy Gaudion, Sara Grisewood, Denise Harrison, Nimmi Hutnik, Emilie Lam, Pandora Layton, Jiaman Li, Nicholas MacNeill, Maria Mohonea, Kundan Mondal, Lorraine Monk, Maria Olivarria, Matteo Orlandi, Anna Pogudz, Ben Pollock, Junnan Wu, Renyan Xie, Xinlei Zhao, Xiaoyu Zhang
This is the third interim exhibition presented by MA Painting at Wimbledon College of Arts at the Lewisham Art House Project Space following 'A Sharp Intake of Breath' 2017 and 'About Space' 2016.
Please also join us for an MA Painting open studio event at Wimbledon to coincide with the BA/MFA Degree show private view on Thursday 14th June 6-9pm.