19th – 30th June 2013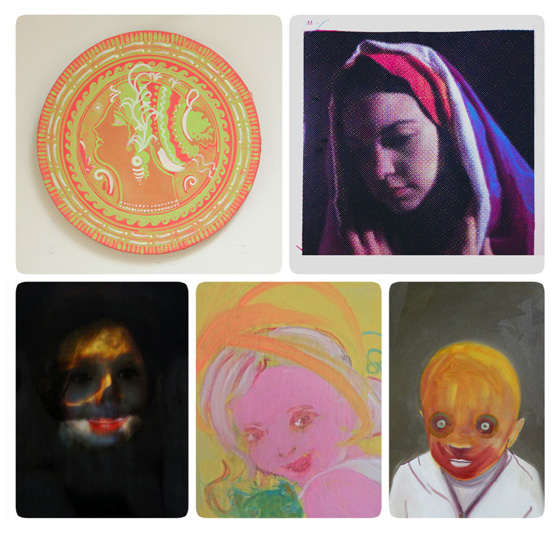 BIZZARO FILTER is an exhibition of portraiture by a group of emerging artists working in paint and print. Each artist operates as a filter, projecting, delineating and subverting the figure; creating a new perspective rooted both within a tradition of painting and their own personal experience. The results inevitably are bizarre.
Mathew John Atkinson – www.matthewatkinson.co.uk
I create ethereal hinterlands that are eerily constructed and ambiguous in a bid to explore the moral and finite reality that humans have formed. The paintings challenge the viewer to reflect upon and enter into a dialogue concerning their universal vulnerability and empathy. A fusion of techniques influenced by Richter, Polke, Turner, Goya, Doig to name a few are combined to produce paintings that are poignant, calculating, hopeful and otherworldly.
Benjamin Bridges – www.benjaminbridges.com
I see my art practice in parallel with life as a journey of learning and discovery. A journey through which I can produce work that reflects my eclectic interests and that also serves as a tool for the discovery of new ideas. Most of my practice is purposely sombre and unpopulated, but when painting portraits I wanted to make paintings that were human, eccentric and yet light hearted. The painting process for me is about speed, a relaxed touch and the intensity of colour.
Christina Christova – www.inachristova.com
My work is a voyeuristic intrusion into fantasy and secret desires. Using photographs of people as a starting point from which I draw on the mood, infusing them with my own imagination and memories. I aim to create an ambiguous world of escapism and delusion, in a sense an alternate reality. Currently I am painting on uneven or reused boards the surface of which add their own, accidental mark to the work.
Amy Cochrane – www.amycochrane.co.uk
My recent work takes its imagery from Greek and Roman sculpture, where I paint restored marble busts with the colours they may have worn, which raises questions regarding our taste and the kitsch. The 'Mug Head' series toys with musicological display practices and directly explores the relationship between object-hood, decoration and the illusory nature of painting. The paintings record the process from object to staged photograph and finally to painting. They then serve as a record of constant metamorphoses: in scale, dimension, and in cultural value.
Nadir Kinani
I am a printer making CMYK halftone screen prints. I treat each print and the process as individual works of art. My work is split into two branches, the first of which I call 'Funsies'. These are prints that I make purely out of an enjoyment of the process, where I strip away all sense of context to make enjoyable images to look at. The second strand I have labelled 'Pretentious'. These works explore philosophy, metaphysics, religion, science, art history and theory. These works are purposefully contrived and dense with questions and influences, in which every element serves a specific function.
For more information please contact benjaminbridges@gmail.com or visit hollowearthlondon.com or facebook.com/HollowEarthLondon