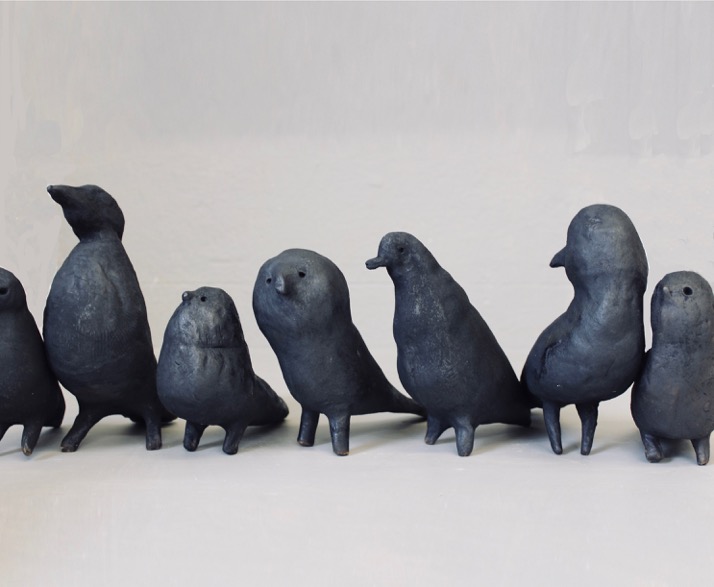 4th-15th September 2019
Flock Project is an installation of over 200 ceramic birds created by artist Julie Nelson and with people who have overcome adversity and are recovering from trauma. The birds represent the challenging individual migration journeys their makers have experienced as refugees and asylum seekers.
Birds are a metaphor for transcendence, connection and the universal need to congregate. With social prescribing now placed high on the political agenda, Flock Project serves as a positive response to current issues around mental health and recovery, encouraging group participation.
The exhibition at Lewisham Arthouse is the result of workshops held over a number of months, working with group members of the Grounding project, supported by the Maudsley Charity and South London and Maudsley NHS Trust (SLaM). The project has offered an opportunity for creative expression and participation that also serves to inform the wider public about the subject of migration.
The workshops were assessed in collaboration with academics from UCL, and funded by a Grand Challenges grant to assess the wellbeing of Julie's art workshops on those taking part.
The exhibition at Lewisham Art House will be the first time that Flock Project will have been shown altogether with birds by Julie, group members, the general public and other participating artists.
Focusing on birds as a subject for the installation has enabled the participants to express themselves in a subject that is ever present even in the city. The project has helped to connect participants with the environment, increase awareness of birds and the sometimes difficult journeys they make and to help us to engage with them.
Rita* is one of the group members who regularly attends The Grounding Project, and has been taking part in Flock. She suffers from arthritis, and enjoys working with the clay as it helped her to move her fingers. She spent a lot of time moulding out her bird and later she shared: "Playing with this clay takes me back to my childhood in Africa when we used to pull clay from the rocks and make pots and plates. It was a fun time."
Daris* has a great interest in birds, having kept homing pigeons back in his country: "I used to have many of these as pets and I know how intelligent they are. I am really enjoying learning more about birds and working with the clay".
Dr Humera Iqbal is a Lecturer in Psychology at University College London, and has been coordinating the research side of the project. She says: "Working on Flock with group members has been an incredibly fulfilling experience. We know from research that participating in cultural activities can help improve wellbeing and combat loneliness in individuals. It has been great to witness first-hand the healing power of clay. Our ceramic birds stand for a shared community and a sense of resilience; they have been able to battle the odds just like their makers."
Julie Nelson comments: "The workshop has been a focus for people to think about the metaphor of birds and to engage with nature and the environment. We also encourage shared production so that a clay pinched head may attach to a press moulded body created by someone else in the group. Everyone has been very happy to collaborate and join in. The focus and concentration has been amazing. One interesting result of the project has been the diverse styles and forms of birds that have been made. When I've researched birds from Ethiopia, Syria and Iraq, for example, I can see where the inspiration comes from. I think that having a common goal of the exhibition has really helped."
We will be holding a talk event on Thursday 12th September from 6.30-8pm at Lewisham Arthouse. Please join us for drinks and meet those involved.
Speakers include Dr Humera Iqbal, lecturer in Psychology at UCL, Dr Gemma Eke, Clinical Psychologist at the Maudesley, Helen Shearn Art and Wellbeing Strategist and artist Julie Nelson. We will also have involvement from members of the Grounding Project who will talk about their experiences.
Opening times:
Wednesday to Sunday 12-6pm
Lewisham Art House
140 Lewisham Way
London SE14 6PD
*Names have been changed to protect the anonymity of the participants.