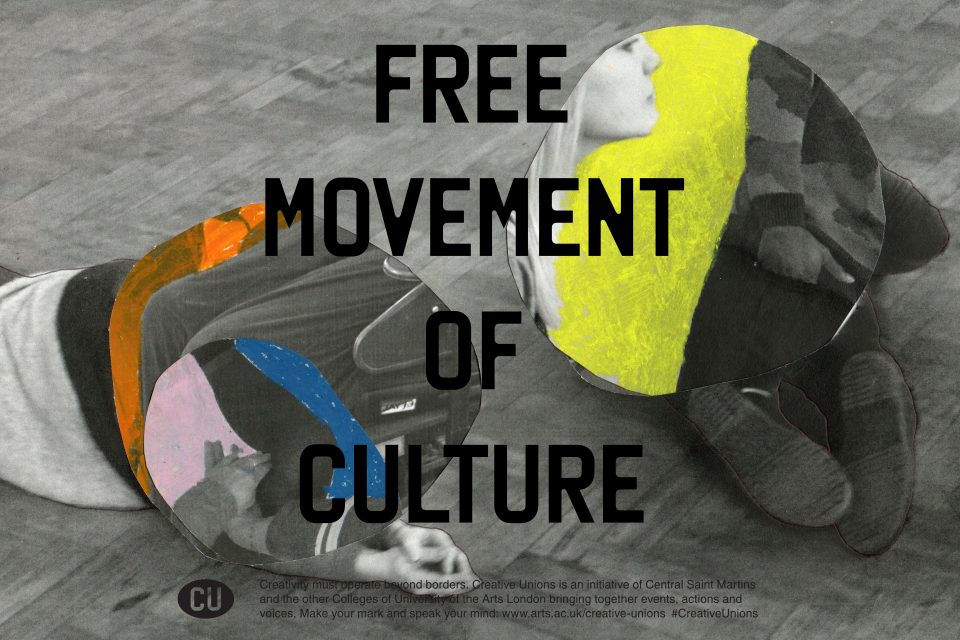 13-14 September 2017
Creative Unions: Free Movement of Culture
Lewisham Arthouse Project Space, 140 Lewisham Way, London SE14 6PD
14:00 – 22:00 (13 September); 10:00 – 13:00 (14 September)
Borders are a concept and a reality that restrict and permit people in different measure. Physical, social, psychological, they hold slow and they hold fast.
Creative Unions: Free Movement of Culture is a two day international artist gathering where the only desire is to make space to ask questions and share different forms of knowledge about what is proximate to us now; culturally, socially, historically, geographically, personally and politically. And it invites you. In fact, it invites you plus one.
CUFMC is a platform and exchange where individuals occupy space/s, sound and listen. It welcomes self-defining recent graduates to produce, provoke and participate in a convivial space where discussion around cooperation and cultural agency foreground any objects, images or situations we might create.
CUFMC is an open forum for sharing and debate rooted in the experience of cultural producers as active, global citizens with common insights, intentions and senses that unite; even when interpretations are undecided or conflicted.
The hosts, (Sophie Chapman and Kerri Jefferis, Paul Haywood and Basia Sliwinska) actively welcome marginalised voices and those interested in maintaining and extending cultural freedoms beyond the reach of political institutions.
CUFMC asks you to:
Bring a friend, colleague, family member or associate based in/from another country than you. You can bring them: in person, through social media, on the other end of a phone, through collaboratively produced content, an effigy or any objects you want to bring or any other way you can think of that might represent them in the space.
Plan something to share. Such as: a game, a rant, a movement, a song, a story, an image, an art, an object, a recipe etc. It could be something you want to say, or to try out with others. It should be something that allows you and others to gain knowledge or experience and bring you into contact with new ideas, concepts, realities etc – responding to the ideas raised in the blurb. You can specify what this is in the registration form.
Be available 13/14 September, 14.00-22.00 and 10.00-13.00 respectively.
Deadline:
Participants are asked to register before 5th of September for the event via an online form here:
13 and 14 September, 2017
14:00 – 22:00 (13 September); 10:00 – 13:00 (14 September)
[/expand]