10th-13th January 2018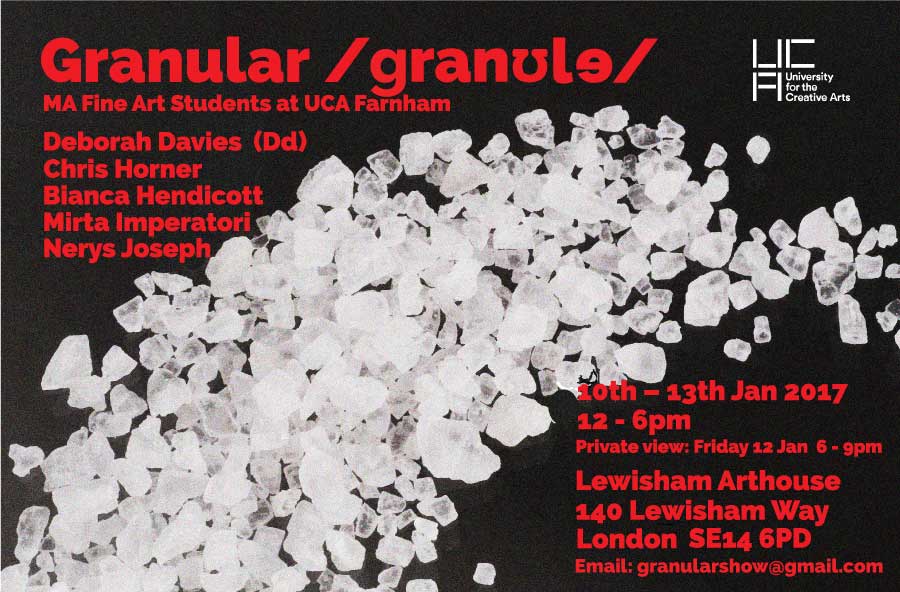 MA Fine Art Students at UCA Farnham
Deborah Davies (Dd) * Chris Horner * Bianca Hendicott *
Mirta Imperatori * Nerys Joseph
Open 10 – 13 January, 12 – 6pm | Private view Friday 12 Jan, 6 – 9pm
Lewisham Arthouse, 140 Lewisham Way, London SE14 6PD
Email: granularshow@gmail.com
The distinction within this group of artists is apparent. With their varying subject matter and methodologies, this show makes for an exciting exhibition, rich with ideas and concepts. The exhibition incorporates a diversity of multidisciplinary artwork. An array of mediums is combined, including photography, sculpture and installation.
Deborah Davies (Dd)
Dd's work is a mixture of art and technology. Fascinated by conversation and feedback loops she combines electronics with textiles, wood and LEDs producing work that is both interactive and participatory.
www.dddavies.com
Chris Horner
Chris Horner graduated with a BA Honours in Fine Art from the UCA 2012 and is currently studying for his Masters in Fine Art. His work has been exhibited broadly most notably in May 2017 at the HLS Gallery for an International art show, and in September 2017 and an international arts festival in Venice, Italy.
www.chrishornerartist.strikingly.com
Bianca Hendicott
Bianca Hendicott explores conceptual platforms such as the sublime and the digital aura through iPhone, film, software, fabric and installation. The work explores how light can be such a 'body' that affects the soul metaphysically.
https://biancahendicott.com/
Mirta Imperatori
This work reclaims experiencing the world through taking photographs. In an age where humans are pushed to be constantly connected through digital media, we are not experiencing the world directly any longer. Imperatori is concerned how we are more isolated than we have ever been.
Nerys Joseph
Nerys Joseph is revisiting a place filled with memories as a photographic artist and documents what she sees. Curiously still, this is a place that has barely changed in four decades and is somewhat frozen in time: like a living photograph, breathing you in and exhaling you out.
https://nerysjjoseph.wixsite.com/nerysjoseph