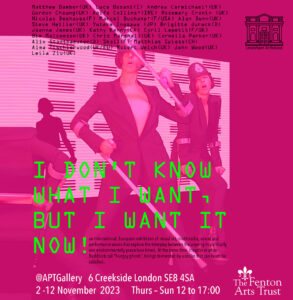 27 October 23
2nd – 12th November 2023
Private View 2 Nov 2023 Thu 6 – 8 pm
Opening hours: Thurs – Sun 12 to 17:00
Gallery: Art in Perpetuity Trust (APT)
6, Creekside, Deptford, London, SE8 4SA | Tel: 020 8694 8344

"I don't know what I want, but I want it NOW!"
With the title from a quote by Vivian Stanshall, the exhibition explores themes of immediacy, urgency, compulsion and capitalism with works by artists from different global perspectives and moments in time.
About:
"I don't know what I want, but I want it NOW!" presents an international, European exhibition of new and existing visual art, multimedia, sound and performance works that explore the interplay between the urgency in politically and environmentally precarious times.
Viewers are invited to embark on a thoughtful journey through the exhibition space and experience a cross-cultural dialogue with the artists' works. From immersive videos to 2D and 3D works and sound, the concept or idea is to focus on the extreme conditions we currently live under, both economically and psychologically. At the same time, it explores what Buddhists call "hungry ghosts", beings tormented by a desire that can never be satisfied.
This phrase is borrowed from a satire by Vivian Stanshall that eerily fits today's distribution of deprivation and overconsumption.
All the works will respond to the title in its broadest sense, "I don't know what I want, but I want it now!"
Curated and produced by Alma Tischlerwood
For further information contact almatisch@gmail.com
ARTISTS (25) :
Andrew Carmichael † (UK), Alan Dunn (UK), Brigitte Jurack (D), Bim Malcomson (UK), Alix Stadtbaeumer (D), Alma Tischlerwood (D/UK), Aoife Collins † (IRE),
Chris Marshall (UK), Cornelia Parker (UK), Cyril Lepetit (F/UK) Gordon Cheung (UK, Joanna Jones (UK), John Wood (UK), Kathy Kenny (CA), Luca Bosani (I), Leila Ziu (UK), Marcel Duchamp † (F/USA), Matthias Spiess (CH), Matthew Bamber (UK), Nicolas Deshayes (F), Robert Welch (UK), Rosemary Cronin (UK), Skall (F), Steve Hellier (UK), Yutaka Inagawa (JP)
Education programme/Performances @APT Gallery, 6 Creekside, SE8 4SA:
The exhibition also presents 1 performance and 2 public workshops that require no prior training or skills. These events invite creative participation and aim to develop the participant's ability to look, listen and respond spontaneously to the world around us.
MEET ME AT.. is a performance that combines the worlds of visual art, performance and dance. Led by a visual artist and a choreographer, this project aims to develop a deeper understanding of how movement and art intersect and influence each other.