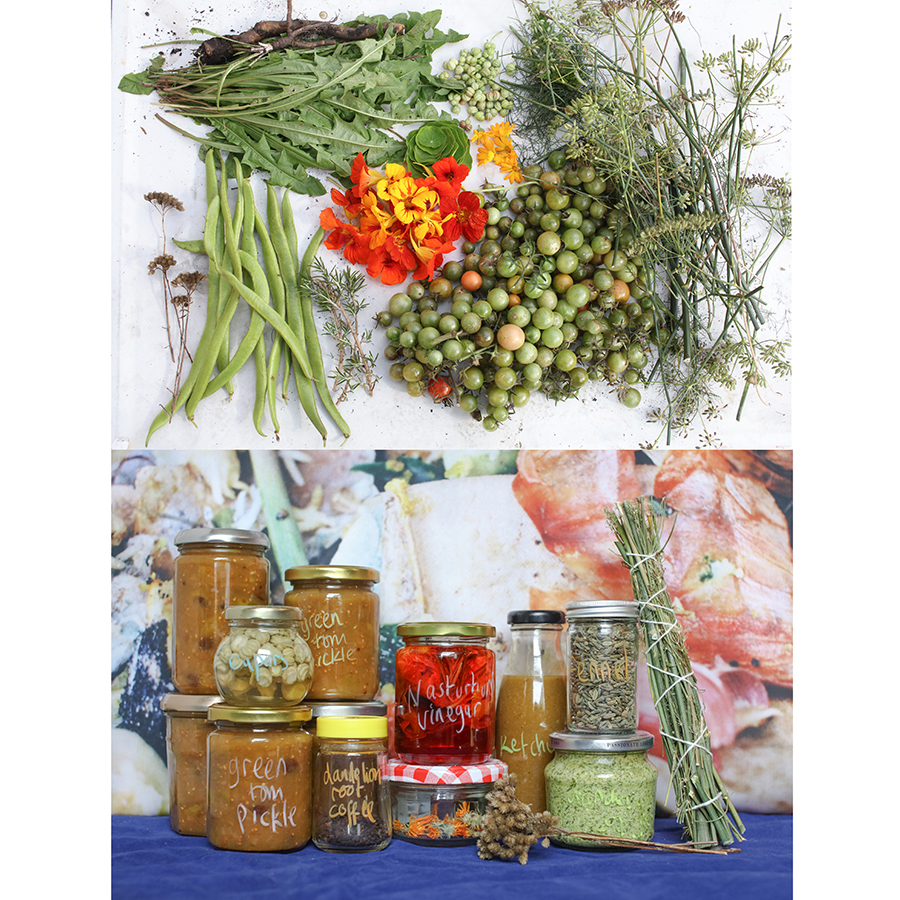 3rd December 2022
Anna Chrystal Stephens
Stretching the Harvest, 2021
Fresh from a small town garden (top) and preserved (bottom).
Green tomato + bean pickle, dandelion root coffee, nasturtium capers, dried calendula, nasturtium vinegar, tomato ketchup, fennel seeds, dandelion leaf sauce, fennel smoke stick and yarrow seeds.
(in front of a photograph of compost (pre-rotted) which contributed to it's growth).
Inês Neto dos Santos and Anna Chrystal Stephens
Opening Sat 3 Dec, 3pm – 6pm, accompanied by Janine Nelson's pop up café with homemade food.
Exhibition: 3 Dec – 18 Dec 2022 & 14 Jan – 21 Jan 2023, Wednesday – Sunday 12.00 – 18.00
Events
Sat 3 Dec, 14.00-15:00
Inês will host a yoghurt-making workshop alongside a collective reading of a "Fervent Manifesto" by Mercedes Villalba. Limited to 12 places. Bring a warm blanket or extra scarf.
Sign up here
Sunday 4 Dec, 14.00-16:00
Inês will host a Vegetable Fermentation workshop. Learn how to extend the life of your favourite vegetables or make your least favourite ones more tasty! Inês will share a basic method which you can use to ferment virtually anything in your pantry – an infinitely reusable, universal formula on how to preserve food using just salt and water. This session opens up space for participants to share and contribute with their own food preservation methods.
Sign up here
something in both pockets is a two person exhibition that brings together a selection of work by artists Inês Neto dos Santos and Anna Chrystal Stephens to highlight the ways in which they use food as a material in their practices. Through the actions of foraging, gardening, drying, canning and fermenting they explore ways to gain a greater understanding and respect for the natural world and seek more regenerative ways of living. Collaboration and exchange are foundational in both of the artists' practices. Social and caring gestures are brought into the gallery, highlighting the enmeshed relationships we have with one another and our surroundings.
By returning to ancient practices and using knowledge that has been handed down or passed along, stories are collected and cultures are preserved, in their multitude of meanings. something in both pockets offers space for coming together and reflecting on possibilities of abundance and self-sufficiency. In addition, the exhibition offers opportunities to share in these stories, learn practical methods and explore food's potential for togetherness and empowerment.
Inês Neto dos Santos is a multi-disciplinary artist, born in Lisbon and based in London/Brussels. Her practice moves between performance, installation and social sculpture, investigating the socio-political implications of what we eat and how we come to eat it. In her work, she creates contexts and frameworks through which to explore collaboration, generosity, care and togetherness. In recent years, Inês has delved into the practical and metaphorical dimensions of fermentation, as a gateway into our enmeshed, multispecies existence. She co-directs arts collective The Gramounce with artists Nora Silva and Finn Thomson.
Anna Chrystal Stephens is based in London and South West UK.
She uses sculpture, action and photography to explore sustainable living strategies, self-sufficiency and the transition between nomadic and settled modes of survival. She investigates ancient practices like harvesting wild plants for food or medicine; learning about the edibility, uses and requirements of plants in order to viscerally understand rural and urban habitats. She is interested in small scale and integrated approaches to growing food as alternatives to industrialised horticulture. Her practice includes the gathering and dispersal of survival skills and craft processes through walks, discussions and workshops. She is also part of the artist group Vulpes Vulpes.