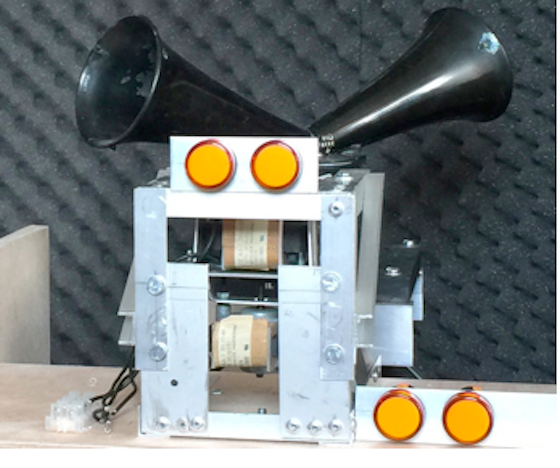 30th November – 3rd December 2017
'The Machine For Saying Sorry' is an installation work by four people from different practices and interests. In this sense it may appear to link art, design, technology and music. However, it was not driven by any pre-determined purpose, issue, crusade, or funding requirement. So, what might this artwork be 'about'? Well, perhaps a clue is in the title, although art often defies meaningful description, or categorization.
Since the 1970s, while economic growth has been immense, more than half of the vertebrate animal population has been lost. Some experts believe that the human species itself may go the same way. At the same time, the hype surrounding developments in robotics, AI (artificial intelligence) and 'Big Data' is getting as much attention as global extinctions. We are very confused. While some welcome a technological revolution that will save us from the drudgery of work, others fear that robots will, in some fiendish way, enslave us all.
Recently, it has become fashionable for AI experts to claim that machines will become empathetic. But this reveals a failure to grasp the difference between living systems and machines. Similarly, we often hear calls for politicians to apologise. But how many people know that apologising and saying sorry have almost opposite meanings? The ancient Greek word 'apologia' (ἀπολογία') referred to the public defence of a religious belief. This is very different from expressing heartfelt remorse (i.e. as in saying 'sorry'). Never mind, we might still need someone (or some thing) to excuse us, once we're gone…
Collaborators:
John Lunn composer
Tischlerwood artist
Sara Willett artist
John Wood curator
Private View on Thursday 30th November at 6.00pm, when the Machine will give its debut 'performance'.
Preview:
Thursday 30th November 2017
6-9 pm
Exhibition open:
30th November – 3rd December 2017
Open 12-6 pm
Free entry
Step-free access