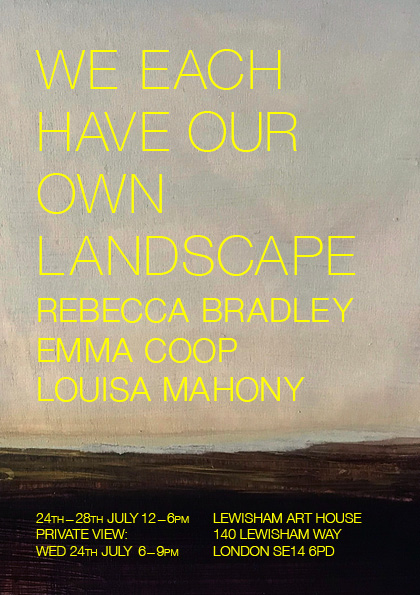 24th-28th July 2019
We Each Have Our Own Landscape reflects a personal element in landscape.
Each artist explores a sense of place as a metaphor for the exploration of the psyche.
Hypnotic waves that peak and fall in a repeating visual mantra, horizons that speak of
a future… almost fictional, landscape employed as a stage, nature anthropomorphised.
The title of this show references the idea of locating one's self both within a present,
remembered or imagined landscape and also the emotional landscape we each inhabit.
We are primed by Romanticism; offering landscape as an opportunity to create a context
for oneself; it is at once a place and a visual representation of an emotional state.
Building on this romantic tradition of the sublime, there is an established trajectory
that considers the mind-scape. Kant established the idea that the connection
between nature and man, is man's imagination. Landscape offers an orthodoxy
that is familiar, that instantly brings the viewer into the understanding that they
are participating in the work. The viewer summons a philosophical convention to the
reading of the work.
However living in the Anthropocene age we humans require too much of nature… we
imbue landscape with an artifice that it clearly can not support. Therefore we are all on
the verge of processing a shift in our relationship with nature.
For more information about the artists, please visit:
www.rebeccabradleyartist.com
www.emmacoop.com
www.louisamahony.com
24th—28th July 12—6pm
Private view: Wednesday 24th July 6—9pm
Lewisham Arthouse
140 Lewisham Way
SE15 3BJ
London