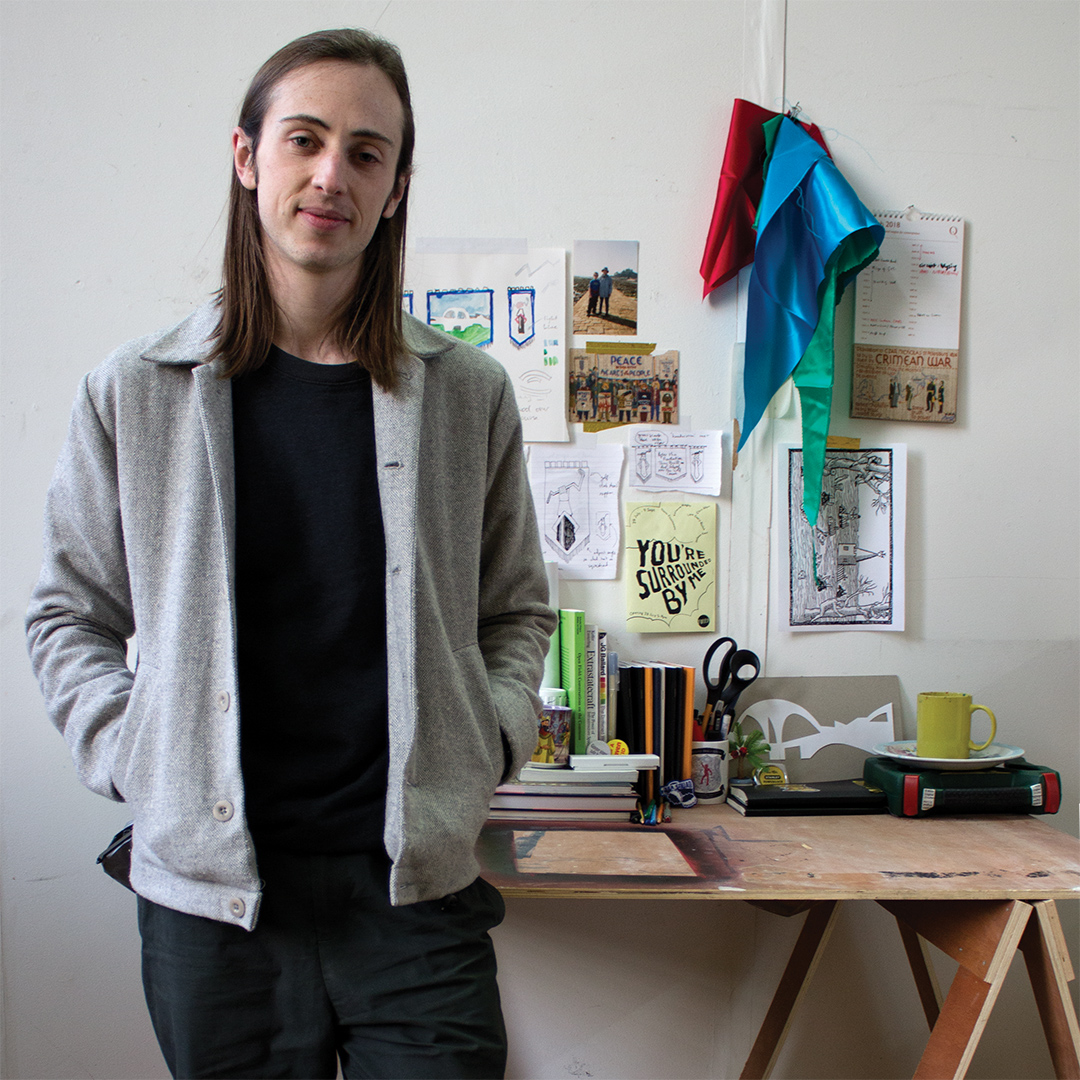 An interview

Arthouse Members Interviews 2018
Chris Alton- English Disco Lover
1. How long have you had a studio at The Arthouse?
I've been subletting a studio since June 2017, but prior to that I held the Lewisham Arthouse Graduate Studio Award from May 2015 through to May 2016. I'm hoping to become a permanent member in the future.
2.What do you like about The Arthouse?
It's a beautiful building, filled with kind and interesting people, of a range of ages, experiences and disciplines. I've been fortunate enough to collaborate with a number of other Arthouse residents on projects of various scale, including; a film, a stage for performances and the organisation and curation of the current member's exhibition.
3. Could you tell us a little bit about what you do?
"An Introduction to Chris Alton"
I'm an artist and (occasional) curator. Throughout my practice, I combine geographically and temporally distant points of reference to produce images, objects, films and events. Whether deploying disco music in opposition to fascism, recording a rhythm 'n' blues album about tax avoidance, or crafting banners that prefigure the future, my work addresses the interconnected nature of prevailing social, political, economic and environmental conditions. I use humour, radical joy and speculative fiction to disrupt our lived reality and imagine the world otherwise. In doing so, I hope to bring this seemingly distant 'otherwise' closer to hand.
4. Is there a work your particularly proud of and why-
Something you felt has been really important to you, or has changed the way you work
In 2012, I started a project called English Disco Lovers (EDL), a multifaceted protest movement, which aimed to reclaim the EDL acronym of the English Defence League. Drawing upon the history and etymology of disco, as a site of musical resistance, it redeployed the genre in opposition to contemporary fascism. That project was pretty fundamental with regard to shaping the work that I do now.
6. What interests you? What influences you?
Growing up as a Quaker was a pretty major influence on the work that I make now. Quakers have a long-standing commitment to social justice, which manifests in various ways; from collectively lobbying of our government through to lying down in front of lorries that are carrying missiles into arms fairs. I also site skateboarding as a key influence, as it fostered in me an engagement with my built environment that was subversive and creative.
7.Are you working on anything particularly at the moment?
I've just wrapped up a few projects, including a billboard commission for Spit & Sawdust in Cardiff and a small body of work about Quakerism & punk for a group show in Birmingham. After a bit of a break, I've a few ideas that I'm looking forward to researching further; a board game about perpetual growth economics and climate change and a book of children's nursery rhymes about arms dealing and the monarchy.
8.Anything Coming up?
I've a couple of exhibitions coming up, including Bloomberg New Contemporaries, as part of the Liverpool Biennial, from 14 July – 9 Sept 2018, which then comes to the South London Gallery in December. I'll also be showing new work at Jerwood Space in October, as part of Survey, a group exhibition of 15 early-career artists. Other than that, I'm coming to the end of Syllabus III, an alternative peer-led learning programme that I've been participating in since September 2017.
END