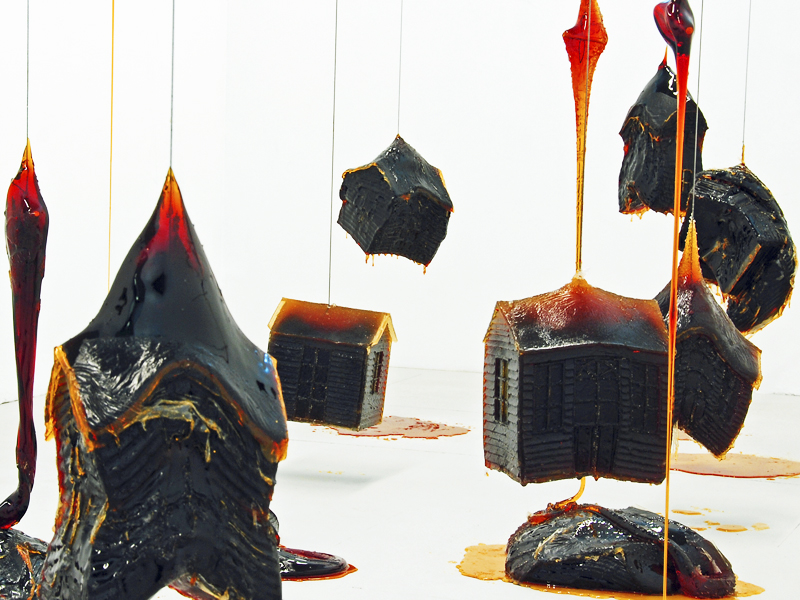 22nd June – 2nd July, 2017

The Precariat seeks to explore themes of risk and resistance through architectural form. Emerging artist Karen Mc Lean will present an installation that invites and reveals the darker harmonies of historical and contemporary occupation. Questioning the physical structures of everyday life, Mc Lean seeks to create a charged and highly distinct site, responding to the ever present fear of dispossession.
We hope to see you there!
Kind regards,

Julie Bentley & Nick Scammell
afterprojects.com
The Precariat Press Release
Karen will suspend twenty sugar houses, each made from a refined molasses solution that slowly transforms from solid to liquid throughout the course of the show. A multi-channel sound installation, evoking the toiled land, will accompany the transforming houses.

The Caribbean landscape is scattered with makeshift housing illustrative of creativity, tenacity, poverty and a landless peasantry. Using the material inheritance of Caribbean colonialism, Karen explores the historical forces that have kept this form alive into the present day. The Precariat aims to open a new dialogue between freedom and servitude.
About Karen Mc Lean
Karen Mc Lean grew up on the island of Trinidad shortly after the country had gained its independence as a colony from England. Growing up on a Post-Colonial island, her memories include the many barriers that restricted non-white people that had to be challenged and torn down, and the tumultuous event of the Black Power Revolution that was fuelled by the Civil Rights movement in the USA. The history of colonialism and its legacy continues to be the source of inspiration for her practice.
Karen moved to England in 2000 and embarked on a career change after working with the national airline of Trinidad and Tobago, BWIA, for 20 years. Mc Lean completed her BA (Hons) in Art and Design, at BCU in Bournville, Birmingham, followed by a Masters at Goldsmiths University, London. Karen has exhibited in Birmingham where she lives, regionally, and nationally, as well as in her home country.
Opening night:
Thursday 22nd June 2017
6:30pm – 9pm
Exhibition continues:
23rd June – 2nd July 2017
Open: Wednesday -Sunday 12pm-6pm, and by appointment.

Free entry
Step-free access