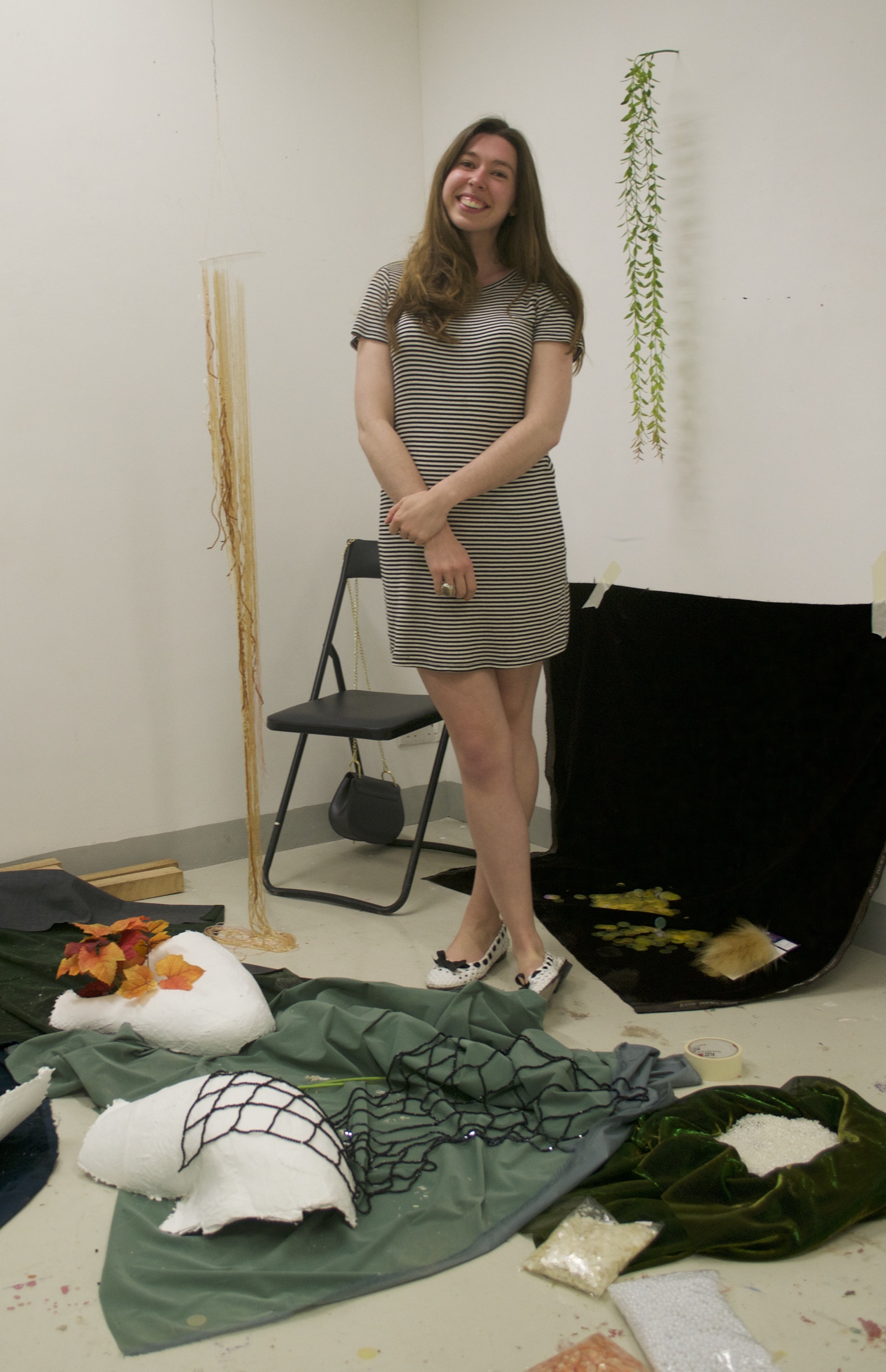 An interview

Arthouse Members Interviews 2018: no.3
Jocelyn Mc Gregor
1. How long have you been a member at The Arthouse?
I've been subletting since last November.
2.What do you like about The Arthouse?
The space is great, the biggest studio I've ever had and it's nice and light. Plus there are always people around and things going on. It is easy to get involved and meet the other artists in the Arthouse and contribute to the community.
3. Could you tell us a little bit about what you do?
"An Introduction to"
I'm a sculptor on the hunt for the point of transition between internal and external, real and imagined worlds. Using my own body as a starting point, I explore the inside/outside topography of the female form, looking to folklore, surrealism and supernatural fiction to investigate the identification of women with the earth, the home and the machine.
The materials that I use – domestic fabrics, beauty products, earth pigments and industrial materials, represent for me a point of transition for the body, the moment it meets the organic or the manufactured world. This closeness comes with bed sheets, towels, furniture and beauty products, which cleanse us, support us, modify our appearance or take us from conscious to unconscious/dreaming. These are also absorbent materials and due to their proximity to our bodies, often play into tales surrounding the haunted object, where inanimate objects assume human qualities; from dolls and charms to animated furniture and aircraft parts. For my sculptures, I combine these signifiers in order to blur the boundaries between the natural world and the manufactured one, resulting in a super-natural hybrid of the two.
4. How do you use your studio?
I kind of split the space in half using one part for making smaller more detailed objects and the other part for spreading out and making more large scale things. I had a studio visit the other day and they commented that there was so much on the floor and literally nothing on the walls. I use the floor and I hang stuff; so that's really highlighted to me how much my work is about getting stuff out into the space, it's volume, it's weight, how it supports itself, etc.
5. Is there a work your particularly proud of and why-
Something you felt has been really important to you, or has changed the way you work
Hmm the first cast I made of my boob, where I replaced the nipple with a Cats-eye road reflector, remoulded it using a vacuum former, made a plaster cast and then polished it up with Vaseline – not many people have seen it, and it's never been exhibited but I've kept it in one piece so that says something!
It was the first object I think I made on my MFA at the Slade. I can't even remember what lead me to make it (I just remember catching my own eye in the mirror, tied up with thread and covered in mod-roc and thinking, "well, this is a first") but it totally changed my practice, kicked me out of the habits I'd fallen into during/after graduating from my undergrad – which had been to try to separate my work as much as possible from the body, from the hand, from myself; making work that looked like fragments of a structure, machine-made barriers. Those old habits are an artistic concern of mine, but I'd never really asked why, I'd just made them and researched the materials I used in an equally distant, impersonal, academic way. So that strange weird, hybrid version I made of my own body, when I look at it now, represents the point when I started to question my work on a personal level. I was drawing it back to myself to better understand the things that were driving me to make it, strengthening it's foundations – basically, that work was the point when I opened up.
6. What interests you? What influences you?
Mossy walls and fallen down trees rotting, horror movies (rural horror and eco horror in particularly) and surrealism, gothic literature, ghost stories, superstitions, folklore – because they explore histories we don't like talking about, usually involving women or people who subvert societies conventions – monsters, malfunctions and discomfort.
7. Are you working on anything particularly at the moment?
I feel like I've made a lot of low-lying, stand-alone sculptures recently and now I want to make a 'space-changer', so a sculpture that can alter a whole space in some way. And I've done a lot of sewing lately, so I want to get back into a messy, heavy process again – or something altogether different, just to rebalance myself.
8.What's in the pipeline? What's Next?
I run a residency project though, 'Doremifasolasido' (www.doremiresidency.com), and that's happening up in Barrow-in-Furness with Art Gene (www.art-gene.co.uk) and Octopus Collective (www.octopuscollective.org) towards the end of the year hopefully, so that's next.
Jocelyn is showing in New Contemporaries, opening 14th July- 9th September In Liverpool and showing 'new work that you can sit on' as part of 'A Field Guide to Getting Lost' at The Art Foundation, Athens. Τhe exhibition's title pays direct tribute to Rebecca Solnit's book 'A Field Guide to Getting Lost' from 5th July- 9th September.