Luke Burton, Jack Tan, Miriam Austin, Andrew Munks, Claire Blundell Jones, Harry Lawson, Stephanie Mann and Claire Poulter
30th August – 7th September 2014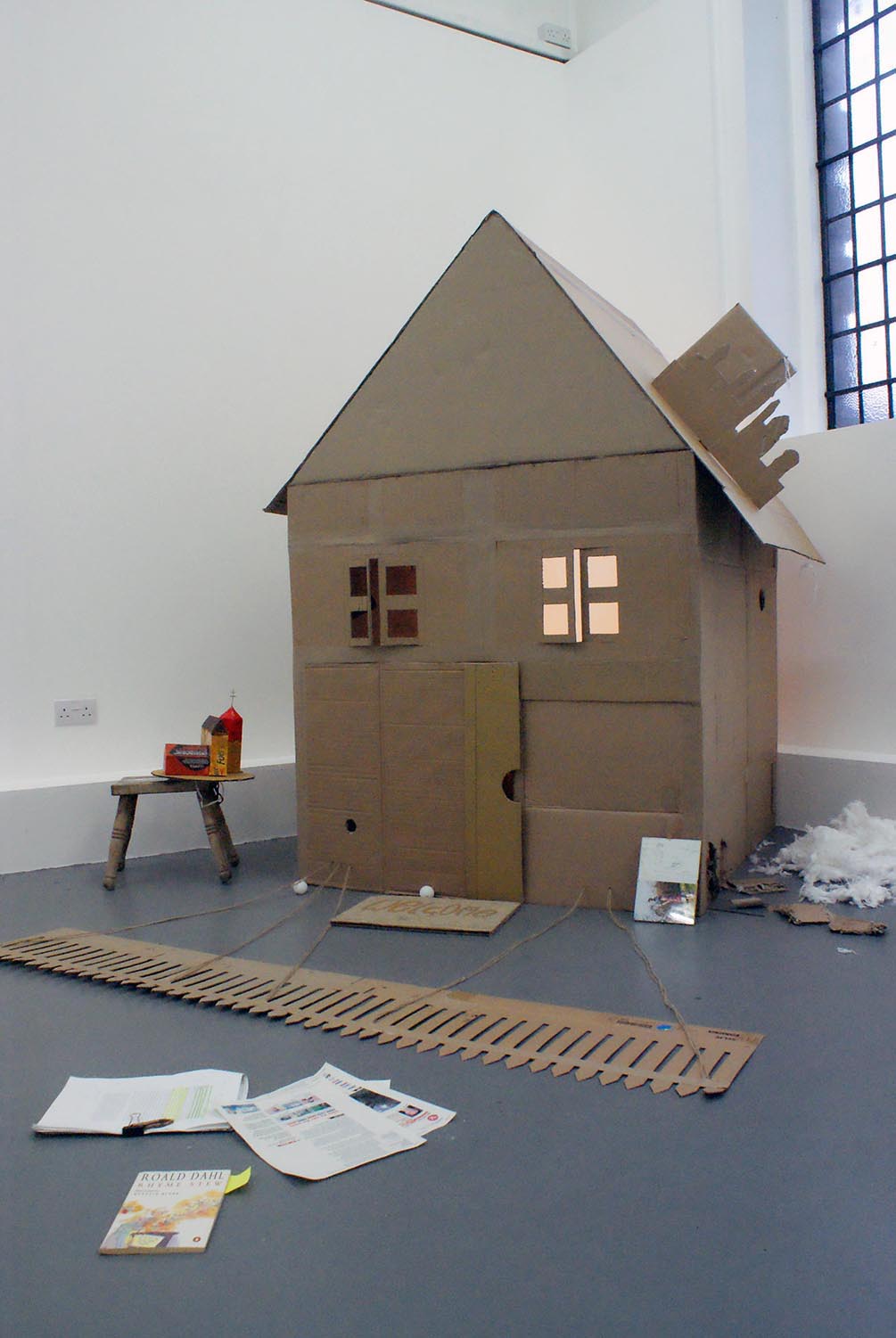 I See I Don't See is a group show that explores contemporary notions of symbol and ritual, and its relationship with the idea of an artwork's aura through specifically curated video, sculpture, photography and performance. The works in the show privilege the way ritual is formed through personal mythology or diffuse biography, as well as through the shared and formalised manners and repeated symbols of society.
As Walter Benjamin states, "We know that the earliest art works originated in the service of a ritual – first the magical, then the religious kind. It is significant that the existence of the work of art with reference to its aura is never entirely separated from its ritual function. In other words, the unique value of the 'authentic' work of art has its basis in ritual, the location of its original use value."
If an artwork's authenticity, as Benjamin proposes, is defined by its original purpose as ritual, then how easily can this 'function' be located now? How do artists consciously or unconsciously employ this authenticating function?
The exhibition will also include a specially commissioned performance by The Office of Public Ritual for Lewisham Arthouseís centenary, and a panel discussion on ritual convened by The Onion Discussions.
Performances and Events:
2 September 2014, 7pm – 'Ome', a performance-lecture by Claire Blundell Jones. 'Ome' explores the ins and outs of what a home is – as a comfort or confine – and will be given from within a homemade cardboard house.
6 September 2014, 5pm – Performance by the Office of Public Ritual of a specially commissioned ritual commemorating the 100th year anniversary of the opening of the Lewisham Arthouse building. The ritual will be facilitated by Nina-Shen Poblete, Christopher Minchin and Stephanie Farmer.
6 September 2014, 6pm – A panel discussion on ritual, convened by the Onion Discussions.
For further information, contact Luke Burton at luke.p.burton@gmail.com, or Jack Tan atmail@jacktan.net
Luke Burton's practice works across media and often uses the architecture of urban landscape as a stage to perform a series of estranged or intimate interactions with architectural flourish. These actions appear as a repeated repertoire of gestures, but are elicited rather than pre-determined through paying attention to the particular site or detailís formal qualities and context. Recent exhibitions include Postcodes, Casa Du Povo, Sao Paolo; What do you think of the title: 'Nothing Lasts', 37 Gallery, London; Unperforming, Floating Island Gallery; Please Stand By, Chisenhale Studio Space, London; An Uneventful Day, Carroll/Fletcher, London; Love/Architecture, Turner Contemporary, Margate.
Jack Tan makes work that explores the connection between the political or social and art. Prior to retraining as a potter and artist, Jack had a background in law, social policy and the voluntary sector. He currently teaches performance at the University of Roehampton where he is also researching the performativity of political resistance in his PhD. Jack has produced work for contexts such as Modern Art Oxford, Cornerhouse Manchester, the Soane Museum, Stephen Lawrence Gallery and art fairs including Frieze and Art14 London.
Claire Blundell Jones uses humour in her drawings, performances, videos and installations to tickle at subjects which are conventionally associated with gravitas, such as wasting time, alienation, intimacy, death, shame and doubt. Her wobbly-lined drawings or DIY performance props lighten these dour themes and create an interplay of pleasure and engagement. Claire has recently exhibited at Environmental Futures, Cardiff; CGP, London; ANTI – Performance Festival, Finland; Casino Forum d'art Contemporain, Luxembourg; Roam Festival of Walking, Loughborough.
Harry Lawson completed a Sculpture MA at The Royal College of Art in 2013 where he constructed a living room for the objects he collects and artworks he makes. His practice looks into how objects and artists communicate through time, researching how archaeological methodologies might affect the way some artworks are produced. Harry is also a member and contributor to the London based artist and architecture group STORE. Recent projects include: Flow, Store, London and Everything and More, OSR Projects, West Coker. Harry also recently completed a residency at the Bothie Project, Aviemore, Scotland.
Claire Poulter aims to make personal landscapes, and explores different concerns by questioning the perceived value of a given subject with an analysis of its make-up. Using different processes and materials Poulter hopes to remain self-aware and in doing so wants her evaluation of a given environment to be expressed by the result. Poulterís objects strive to describe an experience she thinks of as ëflat-nessí and rely heavily on the use of contemporary technology, historical gleaning and personal construction. Claire has previously exhibited at Cowley Manor, Modern Art Oxford and in a number of artist-led group exhibitions.
Miriam Austin's practice can be thought of as a kind of shadow play. Whether installation, sculpture, video or performance, the work speaks at once of cyclical organic processes and of a form of corporeal vulnerability. Its material, formal and symbolic properties are devices ñ narrative, performative, psycho-suggestive ñ used to give rise to a suspension of disbelief; even to something akin to hypnotic trance. The works open imagined and hybrid territories whose referents oscillate between landscape, animal and body. Recent exhibitions include: A Sense of Things (Performance), Zabludowicz Collection, London; Elements of Religion, Bold Tendencies, London and The Birth Caul, Vitrine Gallery, London, 2013.
Stephanie Mann works primarily in lens-based media and her practice is rooted in sculptural principles. She graduated with an MFA in Contemporary Art Practice at Edinburgh College of Art in 2013. Recently, Mann was awarded the John Kinross Travel scholarship and undertook a period of development in Florence, Italy. She worked on a short film commissioned by the BBC in Japan as part of the Edinburgh International Art Festival, and has had solo exhibitions in both Summerhall and in the Scottish National Gallery of Modern Art. Mann has work in private and public UK collections including the Royal Scottish Academy.
Andrew Munks is nearly 30 and lives in London. His fish works came out of both watching Jane Eyre and going fishing and also making bonnets for people and reading the page 3 Metro. He has exhibited narrowly and currently runs Watch It gallery with Sophie Michael in the spare room.
www.watch-it-gallery.blogspot.co.uk
The Office of Public Ritual (OPR) is a service that creates bespoke secular rituals for significant occasions or life events.† We work with clients to develop a set of actions, sequence of performances or an order of programme for personal, group or public use.
The Onion Discussions are a series of discussions that seek to peel back ideas within art and culture for a deeper look. Often taking the form of panel discussions or roundtables, the Onion Discussions brings together artists, writers, curators and other producers to consider pertinent issues in contemporary visual, spatial and material culture in an experimental format and in a cross-disciplinary context.