Pop-up Café, 6th June – 13th July 2014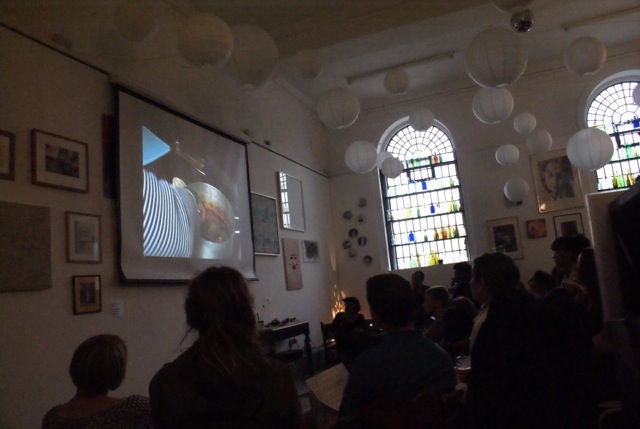 Our gallery becomes a space to relax and refresh for 6 weeks! Greenwich Kitchen will delight your taste buds with a fantastic array of fresh food and drinks, all ethically and sustainably sourced.
Pop in for a quick snack or stay for something more substantial. Thursday nights are Foodie Nights. Bring friends and family and sample internationally inspired cuisine. Guest chefs each week will concoct marvellous menus from hot Caribbean spice to vibrant zest of the Mediterranean.
Side orders are a special programme of events to wet and nourish your appetite including; families craft activities with Arthouse artists, live music from musician Charles Hayward & Friends to Dansette record players politically spun by Rachael House's Feminist Disco.
Monday – Saturday 9am – 6pm
Late night Thursdays and Fridays till 9pm
Friday Night Programme
6th June Barby Asante's Open Deck Night
13th June WARNING: A virulent strand is prevalent in South East London noise. Featuring RABBIT, X-AMOUNT and MIREI YAZAWA + CHARLES HAYWARD
20th June Rachael House's Feminist Disco – Putting the 'disco' into 'discourse' featuring Silvia Ziranek Colette Rosa
27th June TRANSMÈTIC HERESIARCS
Featuring, MER ROBERTS of 0[rphan]D[rift>], AUDiNT (Steve Goodman, Toby Heys & John Corhs), Plastique Fantastique + More
4th July Independents Day – films From the London Filmmakers' Co-op Catalogue – as chosen by David Leister.
Featuring; Mike Dunford – LENS TISSUE, Alia Syed – SWAN, Vanda Carter – MOTHFIGHT, Nick Gordon-Smith – O, Michael Maziere – SWIMMER, John, David Leister – DRIVING THE LOOP, Noski Deville – CAROUSEL and more
11th June La Bouffe: A Night of Film with Gordon/Whitty Projects.
Featuring; Joel Blackledge – How To, Regina De La Hey and Sophie Seashell – Nux Vomica, Can Do Films – Wordfood, Jiann Hughes – Sizzling Babes, Fiona Whitty – Conversations Over Food, Tara Manandhar – Lagos is Lovely, Nick Masters – It'll All End in Tears, WhittyGordon Projects – Vincent
Thursday night Pop-Up Restaurants from;
12th June Mana Greek, Marianna Nikologianni
19thJune In A Pickle
26th June Olly's Turkish Gourmet
3rd July Taste of Tapas
10th July Roger Poitier
Saturday Drop-in Family workshops
7thJune Family Silhouette Workshop
14th June High Tea; cardboard cake craft
21st June Geodesia: Build a dome
28th June Butterflies & Flowers Mosaic
5th July Kidetopia; Film and Quiz for kids
This project was a partnership between Lewisham Arthouse and GCDA
www.greenwich-cda.org.uk
For further info and photos visit our Facebook page