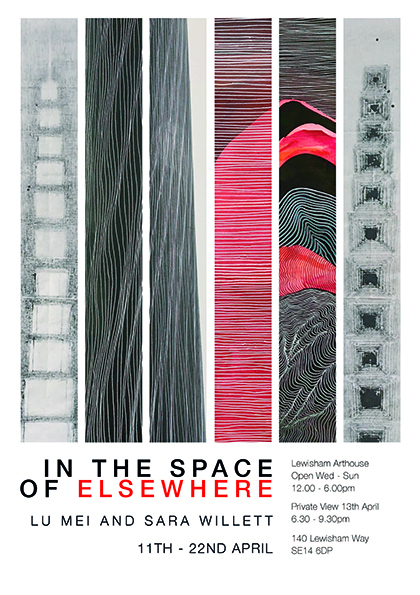 11th-22nd April 2018
In the Space of Elsewhere brings together work by Lu Mei and Sara Willett that responds to the phenomenology of space. The exhibition does not just examine space in terms of cartological location and fixity, but also refers to the realm of poetic space – spaces that exist internally, in memory and imagination. Both artists have also created site-specific work, which responds to the scale of the exhibition space and the neo-classical architecture of the building. The exhibition is accompanied by a soundscape by composer John Lunn.
Lu Mei was born in Henan, China, and divides her time between New York and Beijing. Having studied traditional Chinese ink painting and calligraphy, her practice now combines this artistic inheritance with her contemporary
perspective. Drawn to what she terms the "pyramid" structure of the subconscious, she describes her work is an act of "reaching for the sky", illustrating the road that connects humans to the rest of the universe. In the Space of Elsewhere is the first time her work has been shown in the UK.
In 2016, Sara Willett spent six weeks as an artist in residence in Being 3 Gallery, situated in an industrial area in North East Beijing. The work she produced whilst there, and since, draws on her experience of the physical environment, most specifically the days when the ever-present pollution was most visible. She became interested in the quality of light at these times, the shapes created when the sun's rays struggled to break through the smog, or at night when the air became a neon infused haze. She also reflects on the sense of 'otherness', experienced when navigating a part of the city where the sight of a westerner was unexpected and unusual.
Exhibition Opening Times:
Wed – Sun 12 – 6pm
11th – 22nd April
Private View
Fri 13 April 6.30 – 9.30pm
Lewisham Arthouse
140 Lewisham Way, SE14 6PD
www.lewishamarthouse.org.uk
Transport: New Cross, New Cross Gate
or Brockley stations
For more information and images please
contact info@sarawillett.com