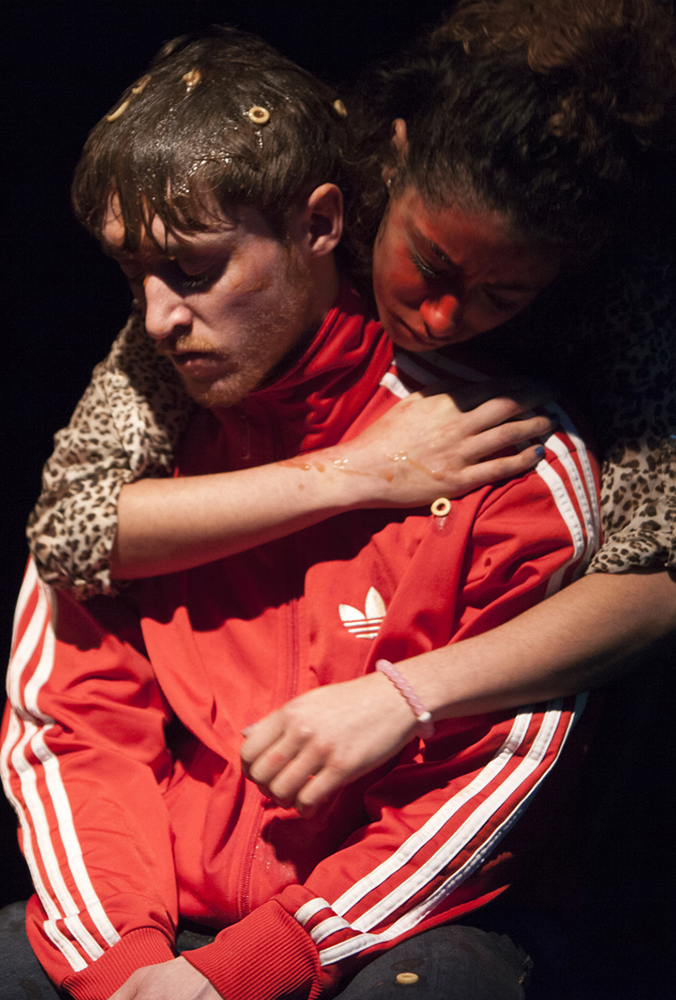 23rd November – 4th December 2016
Preview: Friday 25th November 2016, 6-8pm
[toggle]Image: Still from The ballad of RAY + JULIE, photo: Leila Romaya[/toggle]

Exhibition featuring new film and 7" single that celebrate the RAY + JULIE sculpture, once listed by The Guardian as one of Britain's Top Ten Secret Public Artworks.
In 2009, The Guardian's Top Ten Secret Public Artworks of Britain included the familiar names of Moore, Hepworth, Cragg, Mach, and Muñoz. Number five on this list was the work entitled RAY + JULIE on London Road in Liverpool. Created by artists Alan Dunn and Brigitte Jurack in 1995 it has remained as a homage to the long faded graffiti on the back wall: RAY + JULIE. Intended to last only six months, RAY + JULIE has since become a symbol of the ebb and flow of urban regeneration in the North. Two minutes from Liverpool's main Lime Street station, RAY + JULIE has inspired poems, CD covers, photographs, theatre pieces, films, short stories, sound works and billboards. As for London Road's two original residents, nobody knows who RAY + JULIE were, but these artworks bring them to life.  
The ballad of RAY + JULIE, commissioned by Liverpool Everyman and Playhouse Theatre to mark twenty years of the RAY + JULIE sculpture is produced and directed by Nick Bagnall and features an original soundtrack by Philip Jeck, winner of the Paul Hamlyn Foundation Award for Composers.
Tim Brunsden's film of the event will be screened in the exhibition, along with the release of a limited edition 7" single by Dunn, Heslop & Young entitled LONDON ROAD. 
The exhibition is supported by Liverpool Everyman and Playhouse Theatre and Leeds Beckett University.
 
#theballadofrayandjulie
23rd November – 4th December 
Open Wednesday to Sunday 12-6pm except Sunday 4th December 2016, 12-4pm
Free entry
Step-free access