29th October – 9th November 2014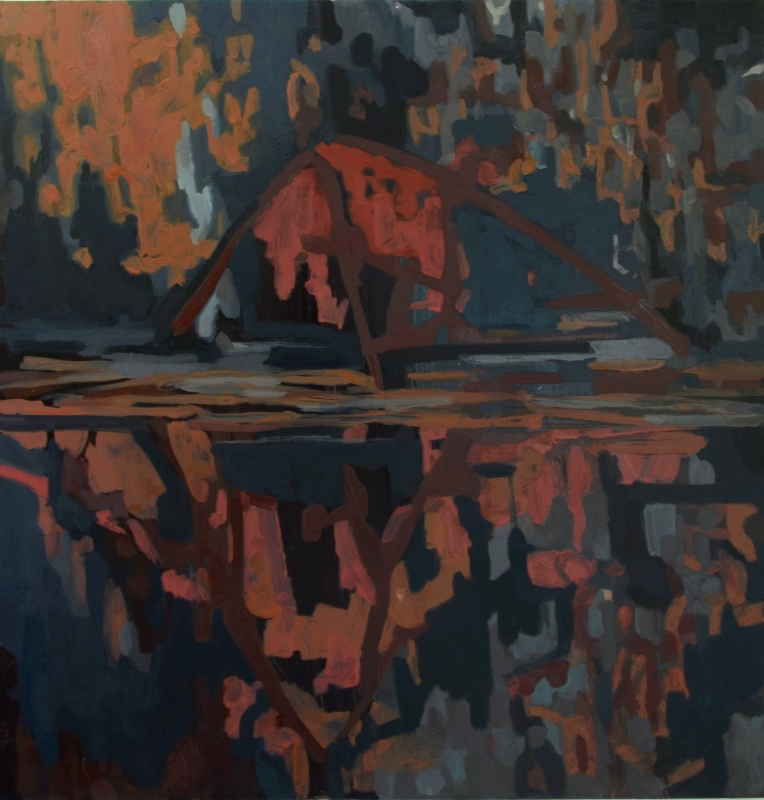 The show brings together a collection of Michael McManus' recent works that explore structure within the motif of a landscape. Referencing virtual spaces' use of flat, horizontal and vertical planes, there is a distinction between the more representational pieces and those that sit on the brink of an abstract pictorial space. Some are rendered to present a building or empty scene whilst others have been stripped back to reveal geometric forms and a network of overlapping marks.
Each painting serves as a translation of the collages McManus creates in his studio. The fragmented nature of the medium, together with its dramatic juxtapositions are recurring visual themes in his works. Some are rooted in historical appropriation whilst others reference photographs of abandoned spaces.
McManus lives and works in London. He graduated from Wimbledon College of Art (2012) with a BA (Hons) in Fine Art. He won the Prunella Clough Painting Prize and following graduation was shortlisted for Future Map (2013) and awarded the Lifeboat residency (2013) . Recently he has exhibited in UAL Showroom Space and completed the Downstairs Residency in Herefordshire.
Artist Talk: Michael McManus in Conversation with Jessica Rutterford (Artist Talks and Front of House Manager, Flowers Gallery) Wednesday 5 November, 6.45pm
The talk will focus on Michael McManus' recent experimentations in the studio and the changing use of source imagery within his painting. It will look at the impact of working for other artists whilst reflecting on personal concerns in his practice.