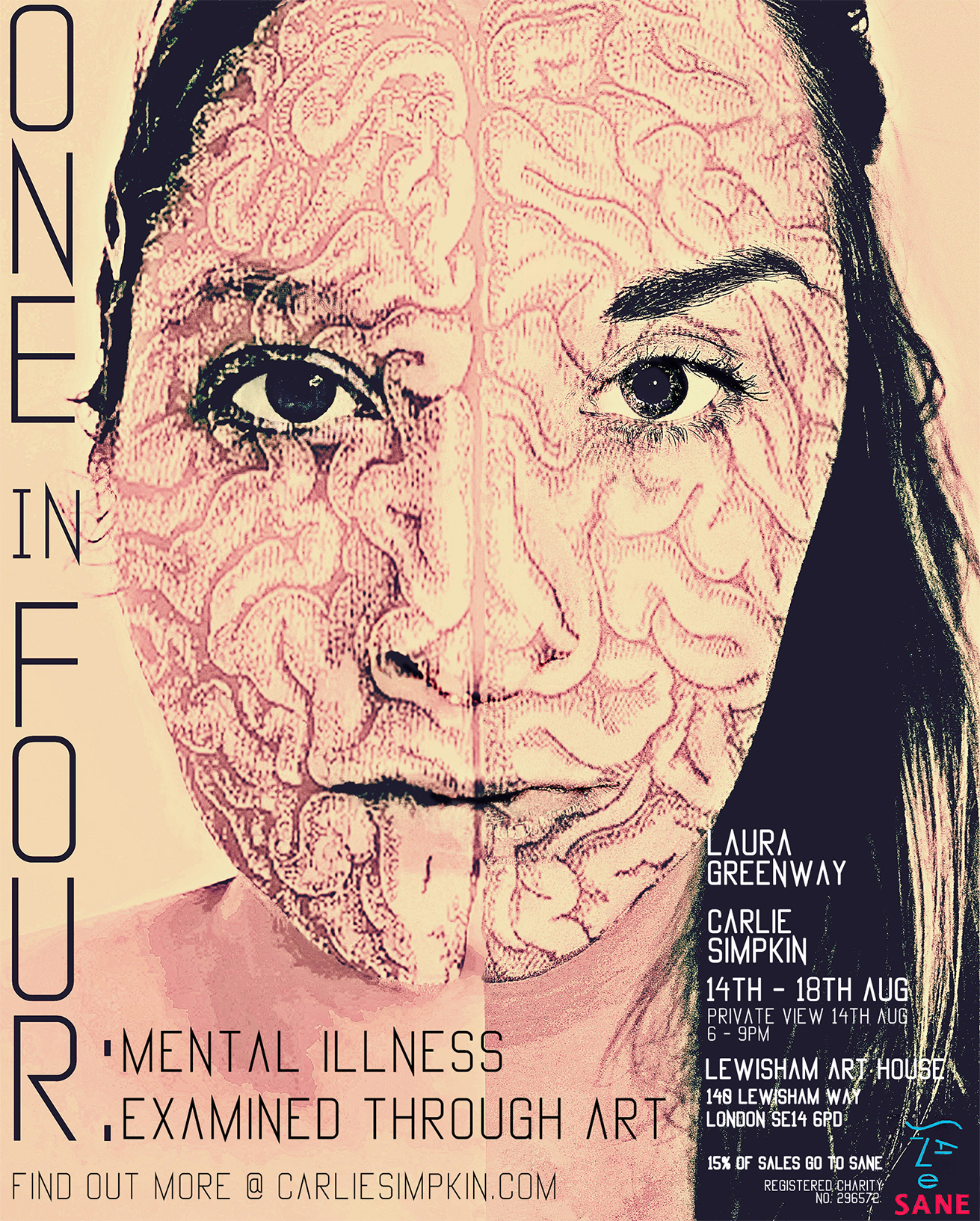 14th-18th August 2018
From the 14th – 18th August, Lewisham Art House will be showcasing a joint exhibition by artists Laura Greenway and Carlie Simpkin, both recent graduates from University for the Creative Arts, Farnham. The show provides an intimate look into the lives of those affected by psychiatric disorders, and aims to start a much needed and essential conversation about mental illness. A staggering One in Four people suffer from a mental health problem in their lifetime, yet mental illness is still often regarded as a taboo subject that remains highly stigmatised – an issue that this unique and candid exhibition aims to tackle.
Performance based artist Laura Greenway, who was recently shortlisted for the Zealous Emerge Performance Prize, explores living life with severe OCD, anxiety and depression through a multidisciplinary approach to live art. Exploring themes including vulnerability, fragility and a pathological fear of intimacy, Greenway creates physical manifestations of her inner turmoil, utilising her body as tool of communication. Her work engages elements of movement and repetition combined with physical and mental endurance to produce thought provoking works that assist the viewer in understanding what life can be like for someone experiencing relentless mental breakdown.
Focusing on depression and anxiety, Carlie Simpkin, whose work has been exhibited across the UK, employs a variety of mediums to analyse life with mental illness. Often utilising a subtle, dark humour in her work, Simpkin's clever use of metaphorical imagery creates an accessible and captivating look at the sombre subject. Through sophisticated juxtapositions, her work tackles the issues that surround living life with severe depression, immersing the viewer amongst a visual representation of her own daily struggles.
In addition to the displayed works, the show will also feature live art from Laura Greenway, with an exclusive performance taking place at the private view, which is to be held on the 14th August from 6-9pm. The exhibition is free to attend and most of the works on display will be for sale in order to raise money for mental health charity SANE, with 15% of all sales being donated to the organisation.
Raw, brave and sincere, the show endeavours to approach the subject of mental illness in new and distinct lights, allowing a glimpse into the life of two artists whose work revolves around first hand experience of devastating mental illness.
14th-18th August 2018
12-6pm
Private view
14th August 6-9pm
Lewisham Arthouse
140 Lewisham Way
London SE14 6PD
@lewishamarthouse
www.lewishamarthouse.org.uk