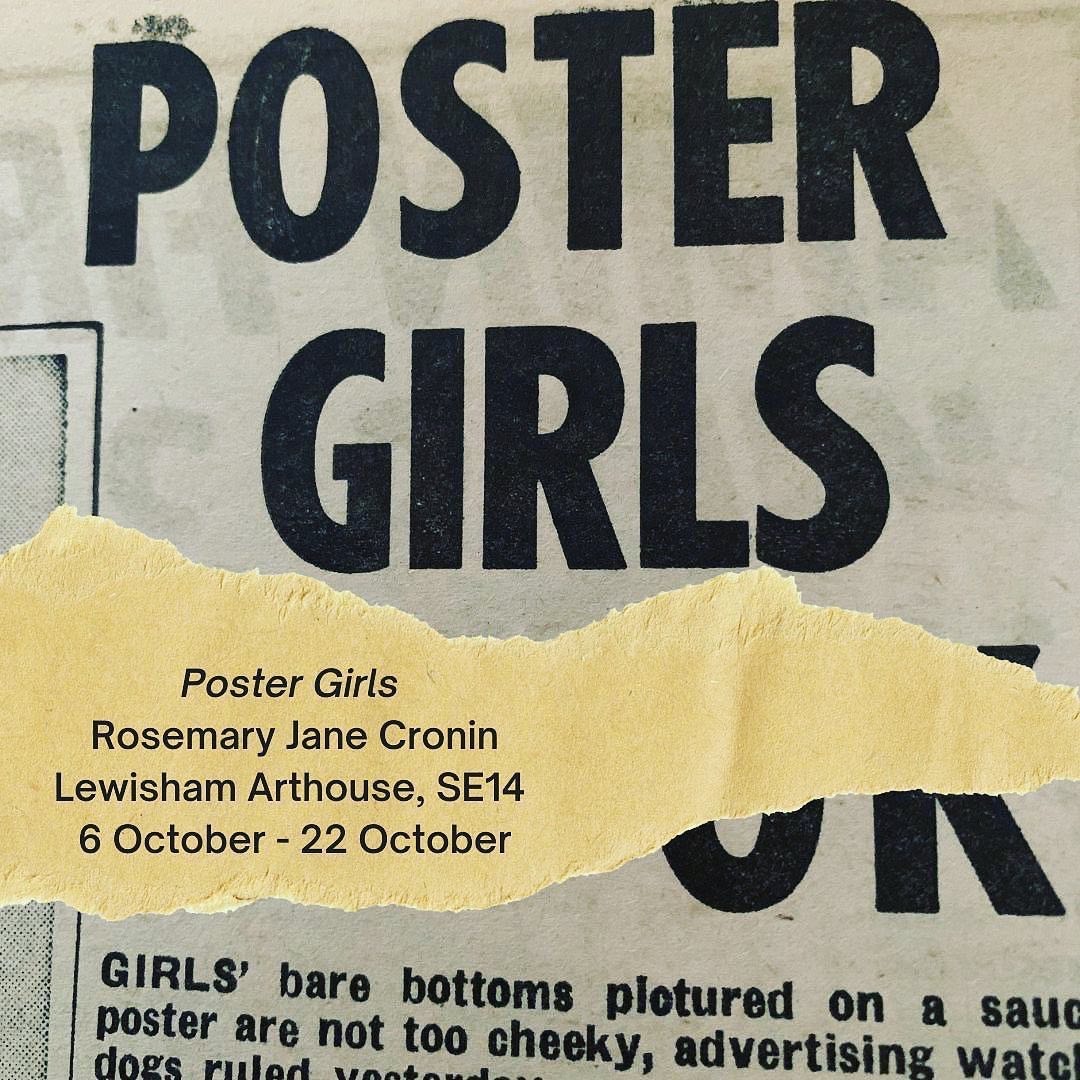 6th October 2022
6th – 22nd October in our Gallery
Tuesday – Sunday 12 – 6pm
Poster Girls is a collection of new works by artist Rosemary Jane Cronin. Cronin's work uses found objects relating to femininity and the female nude as a starting point, ranging from vintage playing cards, model cards, lipsticks and high heels to large bus-stop-sized posters deployed by the cosmetics and fashion industries. Exploring this world through carefully controlled chaos, materials are layered to subvert the male gaze and its commercial signifiers. Text is skewed, paint is spilled, roses are crushed and images torn. What was once expected doesn't feel quite right, and instead we are left questioning the supposed innate sexuality of the female form, and how it has long been a commodity.
Pressing Times is a series of works made over the pandemic, where the artist placed flowers in vintage Vogue magazines, only to open them years later. Revisiting a favourite pastime of Victorian young ladies, in particular Emily Dickinson, Cronin uses the act to subvert the imagery and give it a new energy. Emily Dickinson's words are echoed throughout the exhibition in a sound piece collaboration with Café Kaput's Cate Brooks that samples spoken word from Rosemary Cronin's vinyl collection including The Joan Collins Beauty and Exercise Record, Glenda Jackson reading Emily Dickinson and Anthology of Roses. The sound piece uses Cronin's collection alongside Cate's archive, pulled from context and reset in time and space, along with specially composed emotive electronic textures. For Cate, it is an exploration of her own femininity and sense of self – the staccato sounds of lipstick enclosures closing and high heeled shoes on hard surfaces punctuate the work, creating an immersive intrigue and a visceral reaction to Cronin's powerful feminist imagery and sentiment.
A research-based practice for the artist explores the lack of female representation within the auto-destructive movement, and sees a return to previous destructive performances, with The Fabulous Faker Boys incorporating the destruction of a piano in the space. The muse rebels, and you might still get excited.
Rosemary Cronin is an artist, writer and lecturer with a research-based practice focusing on gender, psychoanalysis and subversion. The work is realised through film, performance, paint, print and sculpture. Cronin has exhibited at The Freud Museum, ICA London, National Portrait Gallery, Transition Gallery, South London Gallery and The Wallace Collection. Film piece 'Reverie' was selected by the Guggenheim Foundation as part of their Under the Same Sun season in 2016. In November 2022, Cronin launches The Freudian Cocktail Book at The Freud Museum.
@rosemaryjanecronin
www.rosemarycronin.co.uk
Cate Francesca Brooks is an artist, originally from Oxfordshire. She is predominantly known as electronic musician and producer, with a career that spans over two decades.
www.cafekaput.bandcamp.com
www.ghostbox.co.uk
Issey Scott is a writer, and occasional curator. Her writing has appeared in a range of publications and she has curated projects at South London Gallery, Anise Gallery, Museum of the Home and arebyte, producing exhibition texts for Luis De Jesus (Los Angeles), Castor Gallery and Wimbledon Space. She recently completed the MA Contemporary Art Theory at Goldsmiths, University of London, where she explored the cognitive dissonance of the healthy mind, the desirable body, and the visual language of happiness.
Events:
Life Drawing with the East London Stripper Collective, 20th October, 6 – 8.30pm
East London Strippers Collective are a bunch of feisty, feminist, fiercely independent strippers. They aim to shatter stereotypes and challenge stigma, whilst improving their own working conditions. They are bored of working in badly run strip clubs, being financially exploited and having very little say in how the venues are actually operated.
Life Drawing with ELSC first launched in 2013 as a natural progression from the age-old practice of hiring professional harlots and hussies as models for art. Our class is fast paced and often involves intense poses. We incorporate some more traditional life drawing with a couple 5, 10 and 15 minute poses. All our models are strippers or ex-strippers. We welcome newcomers and veterans alike.
Book via https://www.eastlondonstripperscollective.com/life-drawing
Finissage
Vinyl Performance, 21 October, 6-8pm.