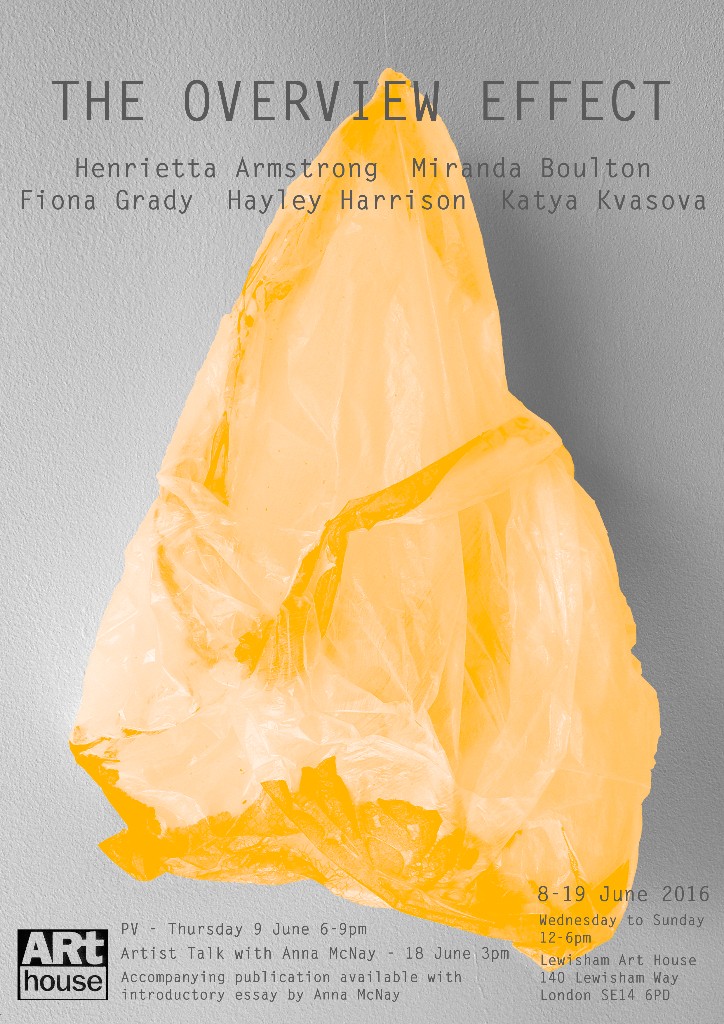 8th – 19th June 2016
Preview: Thursday 9th June 2016, 6-9pm
Artist Talk in Conversation with writer Anna McNay: Saturday 18th June 2016, 3pm
Henrietta Armstrong, Miranda Boulton, Fiona Grady, Hayley Harrison, Katya Kvasova
This group exhibition borrows its title The Overview Effect from a term used by Astronauts; described as a cognitive shift experienced when viewing the planets vulnerability and beauty from afar. An altered perspective is the emphasis for each of the artists, this is evident in their method of making the work, or in the work itself, acting as a lens of distortion.
Each artist works with multiples, repetitive marks and processes to obscure and disorientate. This disorientation shifts our relationship with the subject matter, the familiar becoming unfamiliar. This unfamiliarity is also a disclosure from which a new perspective is revealed to the viewer.
For several of the artists perspective is altered within the process of making the work; for Henrietta Armstrong this involves a reconfiguration of familiar structures into alternative architectures and patterned symmetries. Whilst in Miranda Boulton's work shifted perspective is something that happens cognitively, through memory, and through the reinterpretation of that memory; Hayley Harrison's half sculptural, half painted works demand a vast oversight of society through its debris. Fiona Grady's installations are a lens in themselves, asking the viewer to adjust their perspective there and then, within the gallery space. Finally, Katya Kvasova's work turns this altered perspective both inwards and outwards. Her paintings are a translucent surface or lens between inner and outer worlds.
There is a contradiction here, the singularity of the Overview and those astronauts' perspectives of the planet – a single view of a single world – compared to the myriad of perspectives exhibited here. Yet the desire is shared, that of a cognitive shift rooted in perspective. The process is also similar – each artist is discovering methods of stepping back from what you know, to see their world anew.
Open: Wednesday to Sunday 12-6 pm
Accompanying publication available with introductory essay by Anna McNay
Free entry
Step-free access