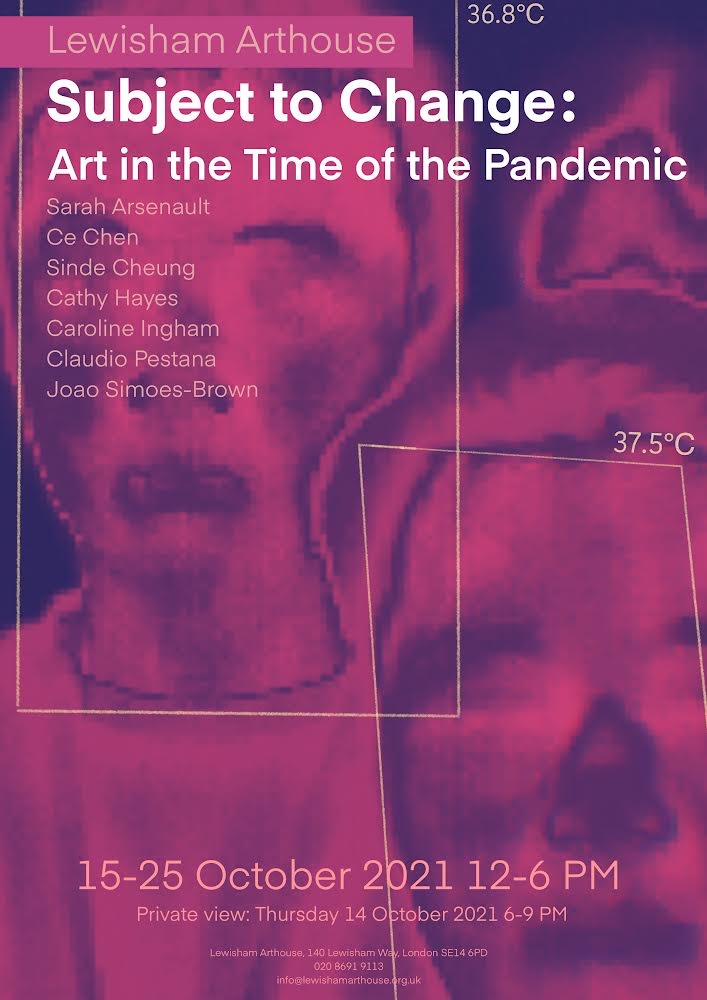 14th October 2021
Sarah Arsenault – Ce Chen – Sinde Cheung – Cathy Hayes – Caroline Ingham – Claudio Pestana – João Simões-Brown
15 – 25 October 2021
Private view: Thursday 14 October 2021, 6 – 9 PM
'Subject to Change' brings together the work of seven emerging international artists responding to our ever- changing political and physical environment where identities and the politics of memory keep being re- negotiated. With social and political volatility heightened, this exhibition by a group of Postgraduate alumni from Camberwell College of Arts pertinently questions the symbolic capital attached to established cultural myths, interrogates the on-going struggles in contemporary geopolitics and de-constructs the embodiment of gender and identity.
Much like the menu in a pub, where the artists came up with the premise for the exhibition, all life is subject to change, and this show is a reminder that nothing is set in stone – even public statues do not last forever. Power changes hands and simultaneously art provides us with the inspiration to challenge oppressive narratives. In this exhibition a multidisciplinary group of artists comes together to show a body of work that examines both the histories of art and contemporary socio-political discourses.
In this show one can feast on the marvel evoked by the eclectic presentation of painting and sculptural works. From Ingham's 'Enfleshing' sculpture group of distorted embodiments suspended from wire hangers on a clothes rail, casting shadows on the surrounding walls, to Chen's hovering paintings employing natural processes of oxidisation to depict the ephemeral elements of the Cornish landscape, the certainty of change is ever present – be it physical, social or political.
Whilst in her 'Pieta' paintings Hayes examines how feminine identity has been depicted throughout history and offers us a group of fluid figures in domestic settings, in 'Fag Has an Audience' Pestana invades the grand houses of the landed gentry and re-interprets the tradition of the interior portrait, populating the pictorial space with his Fag identity and references to landscape and social class.
Change is also evident in Cheung's 'Merry Christmas', where a Christmas tree, which was set on fire in a luxury mall in Hong Kong in December 2019, unsettlingly represents democratic instability.
Simões-Brown presents us with 'Instar', a reference to the stages of development between moults of the arthropods, and Arsenault explores humanity's vulnerability as a species in 'Survival of the Fittest', 'Extant', and 'The Healing' – both artists also examining the ever-constant presence of change.
For more information check out the Booklet or Press Release
sarah3arsenault
cechenpaints
s1ndecheun9
oreillyhayes_art
carolineingham_paintings
cmdcp
joao.simoes.brown