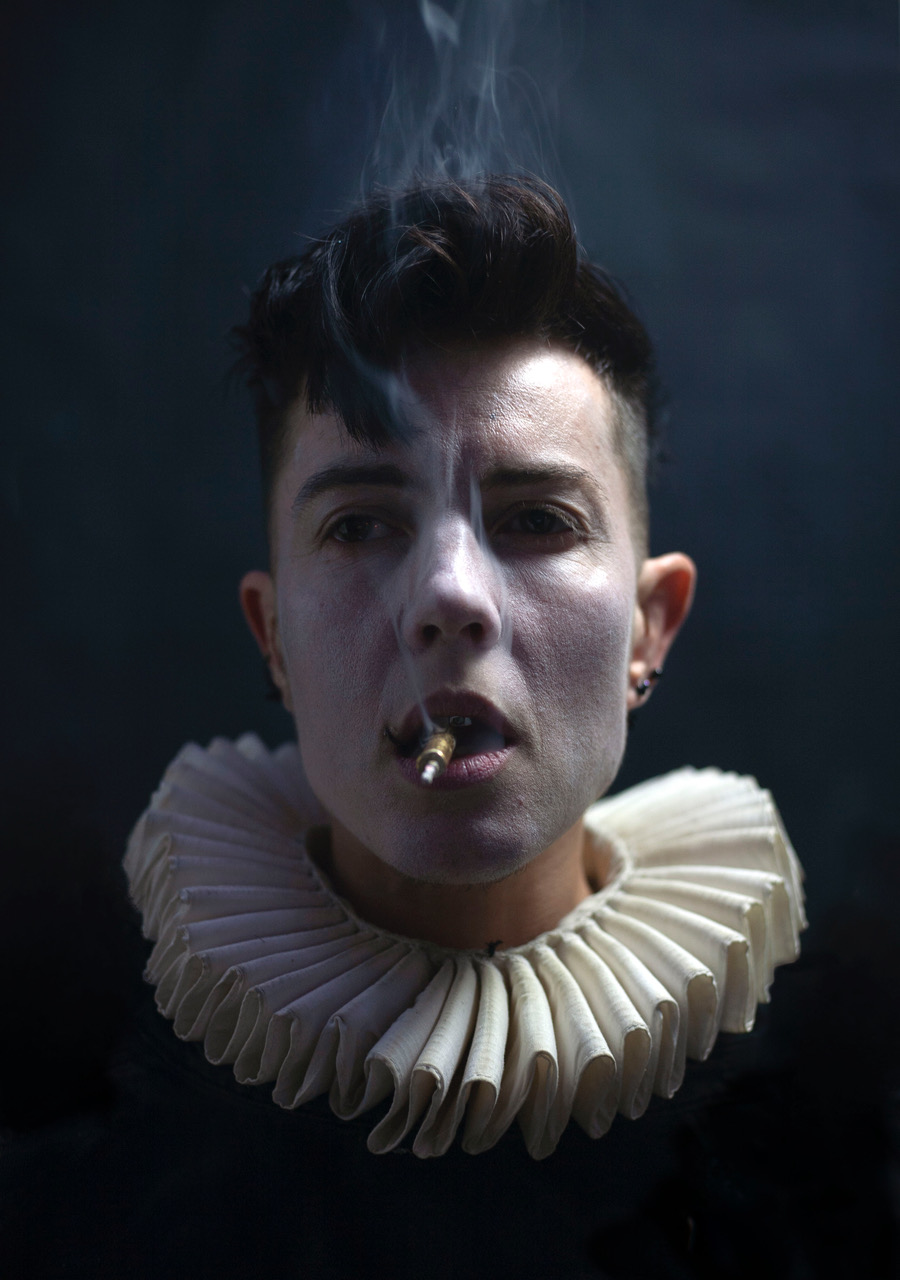 March 2021
Photograph by EM Williams
E.M. Parry joined the Arthouse in December, we interviewed them to find out about working with history in a different or queer way and what it feels like to share a smoke with a ghost.
What attracted you to joining the Arthouse?
So many things about the Arthouse were really appealing. I was drawn to a space that felt very embedded and invested within a community, not just within the artist community but the wider community of South East London, where I've been based for around 20 years.
The Arthouse co-operative model is very exciting compared to other studios in London, which can be incredibly unaffordable, perpetuating a culture of the arts being a luxury for elites. I liked the idea of being part of a co-op structure and have always been interested in alternative, non-hierarchical models – especially at a time when we urgently need to be re-thinking a lot of traditional structures of power and organisation. I was interested in finding out more about this type of art space model, as my ultimate ambition – building on an online queer space I helped set up during lockdown – is to create a queer community and art space in South London.
The Arthouse has been a life-line for me during lockdown, being close to my home, and it's been really nourishing to feel like my work was in conversation with other artists during the group show recently.
How would you describe your art?
My background is in theatre, primarily design, but I've always worked in quite a multidisciplinary way – I also devise, perform, and write. My personal practice draws on the vocabulary of theatre making. I find it quite hard to describe exactly what 'it' is, because it's a lot of different things. Sometimes I describe it as durational sculpture, or performative installation. I use objects and costumes, usually with some time-based element. I work with bodies a lot, mostly my own, but sometimes engaging with other bodies.
My work is essentially collaborative, including with people who aren't necessarily with us in the flesh. This ties in with my PhD, which looks at meeting the past using queer ways of doing history. This isn't the traditional idea of history as something written and stored in an archive, where only certain people are allowed to decide what even is history. This is not history as we were taught in school, a history that's linear, with the kings and queens of England represented in a neat line like a ruler sold in a castle gift shop. A queered way of looking at history is non-linear, messy and unruly, meeting the past in more embodied and imaginative ways.
What are you working on at the moment?
I did a residency last year at Harts Lane gallery, New Cross, where I developed an ongoing strand of work which I'm continuing in the Arthouse, using pipe shards which I collect from the banks of the Thames, as a way of physically connecting with the past. I make installations, sculptures and wearable objects out of them, often with time-based elements, such as melting ice. Engaging with these objects feels like craft, but also like a performance, a ritual, or seance even.
I recently created an installation connecting hundreds of these pipe fragments, laying them out across the floor in snake-like trails. I think about how these fragments represent people connected to a part of London – perhaps some of them knew each other, maybe they were neighbours, friends, lovers, enemies, perhaps they walked the same streets, but hundreds of years apart. The moment when I stopped and looked at them all laid out, I had a sense of all those people in the room with me – it was quite overwhelming and I actually found myself crying.
Each shard represents possibly the only trace of a person's existence in this world. Usually the way history engages with people is through the written archive, recorded when people are entering into a relationship with the state – dying, being born, getting married, or in trouble with the law. So it boxes people in particular ways. In the early modern period many people couldn't read or write, or could only read but not write. I'm fascinated by the idea of a material archive, especially of anonymous and forgotten lives – a kind of queer archive.
One of the things I do with the pipe shards is a ritual performance where I smoke tobacco or just breathe through them. It feels very haunting, and very moving. I try to be really respectful in how I treat these objects because each one is a life and a person; when I breathe through that little channel it links me with the last person who smoked it. This is what I mean by a different or queer way of doing history. It's basically sharing a smoke with a ghost.
Has the pandemic influenced your art?
I'm very grateful for having a practice that takes a long view, this queer view of history and of time. I think we experience time as a social construct, and the past year has really revealed this. Viewing things in this way has helped me process the strangeness of these times and to find some hope – which isn't to say it's been a breeze! I'm aware this is a really tough experience for everyone, but I do feel a lot of curiosity about the situation, even at its most challenging, and it's certainly informed my thoughts and practice.
What other work inspires you?
I'm very inspired by other queer performance and drag artists, such as Cyro, Nando Messias, Furious Brown, Rubyyy Jones, Prinx Lydia, Emma Frankland, Oedipussi Rex, Travis Alabanza, Prinx Chiyo, and many others.
What do you have coming up?
I'm developing the pipe fragments work for a show at the VSSL Studio gallery in Deptford, in May. I'm also working on some photography projects and learning film editing, making little films and performing to camera. Joined with this I do drag performances – which haven't been possible in the flesh during lockdown, but I'm exploring ways to keep up drag practice using digital platforms. I'm working on new characters and costumes, and weaving that into the photography work.
Pipe shards project on the Shakespeare's Globe blog
exhibition and performances at VSSL Studio – further details coming soon