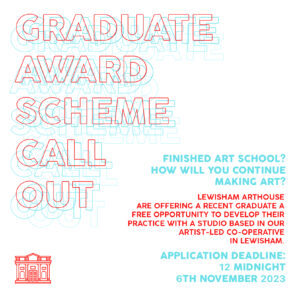 Deadline 6th November 2023
We are now seeking applications for this year's Lewisham Arthouse Graduate Award!
The Lewisham Arthouse Graduate Award is an exciting opportunity providing recent graduates (between 2020-2023) with free studio space and production support. It is a studio and mentorship award for recent graduates from university and alternative art education programs, please see eligibility at the end for further details. It is free to apply and the award lasts one year, it provides a first floor 200ft studio based within the artist-led cooperative and community of Lewisham Arthouse and a mentorship program with local professional networks and mentors selected by the awardee. At the end of the year, the awardee is invited to share the outcomes of their time in Lewisham Arthouse through a public event; such as an exhibition, a workshop, performance, symposium or gig.
This year's award will run from January 2024-2025. The deadline for applications is midnight on November 6th. For more information please look at our Information Sheet.
You can also email us at graduateaward@lewishamarthouse.org.uk
In case the hyperlinks don't work, please see:
Lewisham Arthouse Graduate Award Application Information Sheet