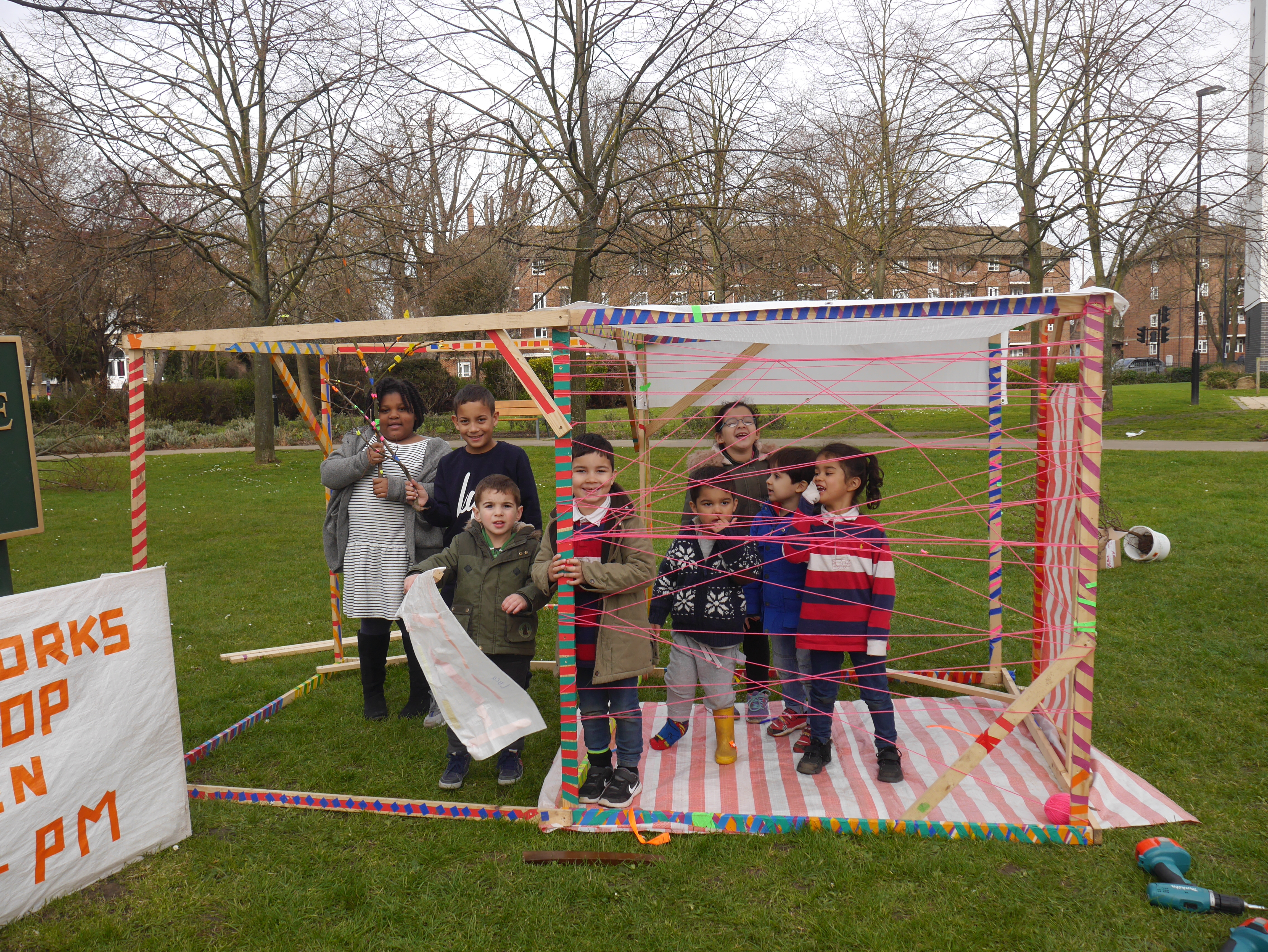 30th June – 22nd September 2016
(Thursdays and selected Saturdays, dates below)

On the grass @ Leybridge Estate, Lee Green, London SE12
Affinity Sutton, Lee Green Lives Community Centre and Lewisham Arthouse are pleased to announce that free Making Works workshops for young people will be available to Leybridge Estate residents for the third year running this Summer 2016.
Making Works creative workshops are open to all children and young people living at the estate as well as their parents on a drop-in basis. Participate and you could take home a little trophy, such as a spooky toy spider or a colourful flag!
These fun and engaging workshops have been commissioned and funded by the Affinity Sutton Community Fund and Groundwork. They are delivered by qualified artists and art tutors from Lewisham Arthouse, with practical support from the local Lee Green Lives Community Centre.
The project has run twice previously in the Summer's of 2014 and 2015. In those past two years, children made fantastic and outrageous houses and castles; their own space ships; speedy go-cards; pyramids and much more, whilst learning how to use power tools along the way. All materials such as wood, colourful tapes, DIY tools, paper and paint are provided.
Lead artist and workshop tutor Laura X Carle says that it has been truly amazing to see the children enjoying themselves so much whilst learning practical and transferable skills for life when taking part in the creative activities. 'They learn to share, to collaborate, to make practical decisions together, for instance when they build a house there is so much teamwork going on'. Laura and her team are looking forward to working with children who participated before as much as they are welcoming new participants.
Parents are welcome to join for a complete session or just a part of it. Children under 4 years must be accompanied by an adult throughout the whole workshop. Parents have commented on how much they enjoyed taking part together with their little ones. Rebecca, Isaac's mum, said 'it gets the children outside, getting creative and making together'. Dan, Natan's Dad, commented 'it was such a great idea to get the kids and adults outside, working together and having fun'.
For further enquiries about the workshops, please contact Adila Rose on 020 8285 4165 or Laura X Carle on 07789 362 069.
Workshop Dates:
Thursday 30th June 2016, 4.30-6.30
Thursday 7th July 2016, 4.30-6.30
Thursday 21st July 2016, 4.30-6.30
Saturday 30th July 2016, 3.30-5.30
Saturday 6th August 2016, 3.30-5.30
Thursday 11th August 2016, 4.30-6.30
Thursday 18th August 2016, 4.30-6.30
Thursday 25th August 2016, 4.30-6.30
Thursday 15th September 2016, 4.30-6.30
Thursday 22nd September 2016, 4.30-6.30
Visit to Tate Modern, Date TBC
Twitter: @makingworks
Tumblr: makingworks.tumblr.com