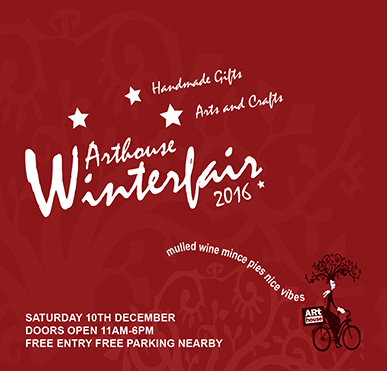 Lewisham Arthouse's ever popular Winter Fair returns on Saturday 10th December 2016.

We will be offering lots of lovely gifts and art for your delight and possibly seasonal presents for you friends and family. Everything from paintings, posters, prints, ceramics, mosaics, jewellery, sculpture and digital art, to crafted fashion accessories.
There will be a tasty food bar run by Marta Addari, our local Vegan/vegetarian caterer Chef on Menu. A splendid mulled wine stall run by Lewisham Arthouse plus great vibes from our in-house DJ, fabulous festive decor, and of course the friendly face of Lewisham Arthouse to meet and greet you all.
It's a free event and all are welcome, we have wheelchair access and there will be some fun stalls for children to look at.
Open: 11.00am – 6.00pm
For more information email: winterfair@lewishamarthouse.org.uk