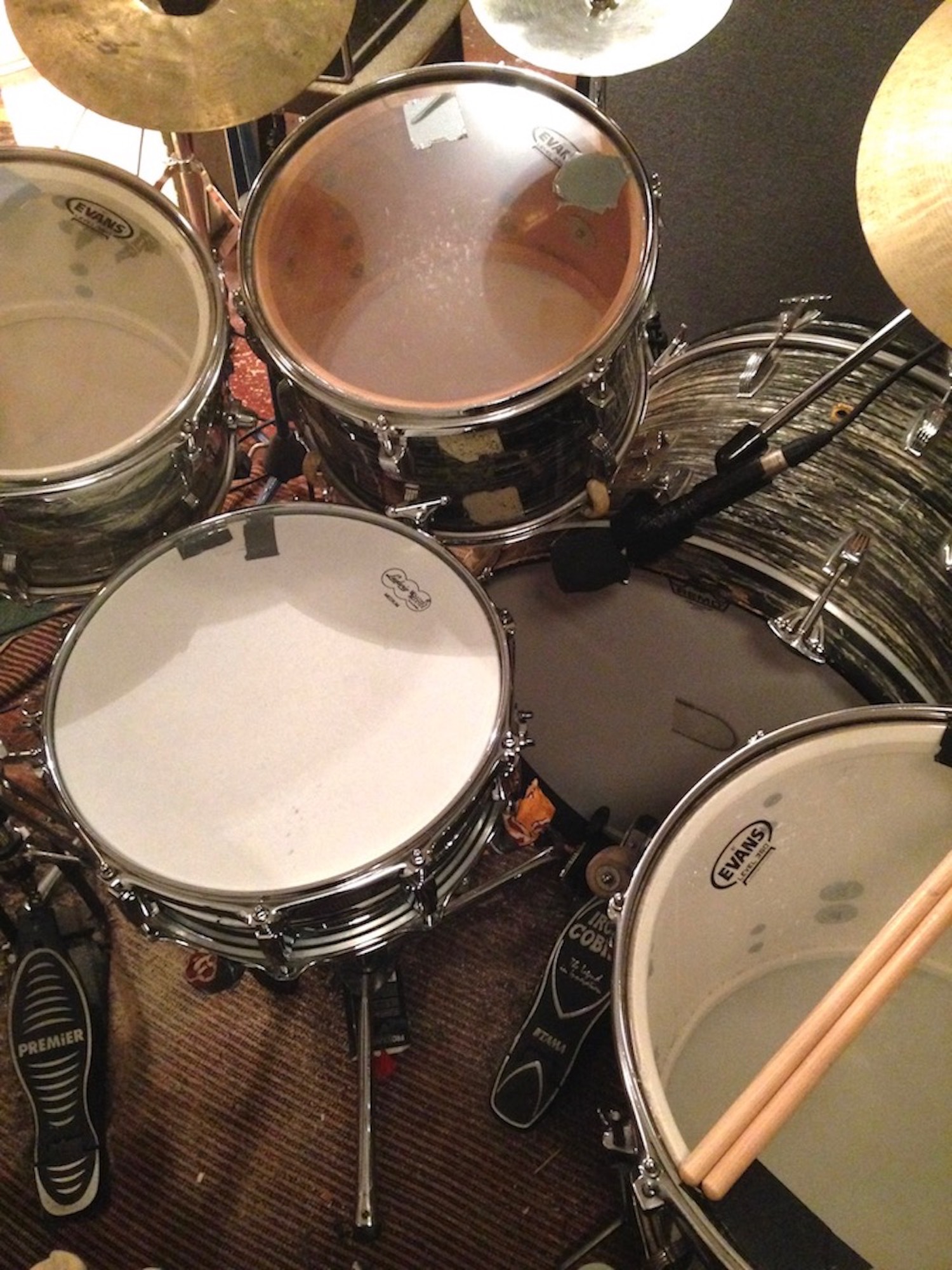 An interview

Arthouse Members Interviews 2018
No.1- Charles Hayward- Lucienne Cole- Jan 2018
L. How long have you been a member at The Arthouse?
C. I joined in 2001 and became a full member in 2002.
L. What do you like about The Arthouse?
C. Two things- First, ever since I've been making music, it's been in parallel to visual artists.
When I was in THIS HEAT we moved to an ACME studio in Brixton. After that, I moved to Mumford's Mill studios in Deptford Creek. Coming here to The Arthouse was like coming home.
L. So was it a considered choice to be amongst visual artists?
I don't like being amongst lots of other musicians. To be honest, it gets a bit boring. We end up talking about bass drum sounds. It's not about that for me. I like to be with people outside my discipline.
The other thing I like particularly about The Arthouse, compared to all the other places I've ever been involved in, is that they have a link with the neighbourhood. They feed their energy in from the local people as well. It's a symbiotic relationship.
Like Dada – it's about doing stuff, it had a sort of grass roots level street vibe. The Arthouse can be a thing of great joy. There has been a lot of evenings programmed here with a particular take on how to present things that's built up a reputation.
L. Are you referring to 'SOUND IS SOUND IS SOUND' an event you instigated at the Arthouse?
C. Yes- I was doing it every month here. We had a very successful night with Thurston Moore, from Sonic Youth, that sent up a big wave of energy in the neighbourhood. We have now moved SOUND IS SOUND IS SOUND to The Albany in Deptford so we can showcase to a higher spec and a larger audience.
L. Do you invite people to take part in 'Sound is Sound is Sound' events or are more people getting in touch directly?
C. People now get in touch and I try to go along and see them – Part of the criteria of what we're doing is to engage local, London, UK and if possible, international. So there's a cross pollination of expertise and so it's not just one scene speaking to itself.
L. You work a lot collaboratively – sharing, giving and receiving, seems to be very important to you.
C. I've been watching my peers, people my age, and often this thing happens, which is a little hat with a small brim; really good equipment and a technique that's settled in, but it doesn't question itself. So I'm wary of that.
One way of avoiding that is I'm playing less. I also work with guys 25-28 years old, reconnecting with that early energy. DATA QUACK is one group I'm in, where we are all equal members in the group but I'm one and a half times their age.
L. You are known as a drummer, but you make and use a lot of other instruments and bits of kit. Your drum kit has to fit, didn't you say, its like putting on a suit- So it's different for every drummer isn't it.
C. Yes. I have several different drum kits for several functions and also to stop that signature thing. Also I have drum kits based on portability.
L. Yeah, that must be a factor. Physical and economic limitations can make a difference to what kit you use, what you might play?
C. Yeah. I try and integrate my aesthetic back into everything. I try not to be this guy with this big thing in my head I've got to express, like Wagner or something, but much more a person who's a conduit for all these different circumstances, some of which are non- musical or completely incidental.
I get a lot of my instruments off Deptford market and I've got a friend who climbs in skips and sells me things. My brother used to work with all sorts of different media and he would go to scrap iron places. He bought these alarm bells he didn't use and gave them to me. I'm still doing versions of things with them. I'm working out what notes they are by measuring them against the keyboard. I'm missing some, so I've integrated the whole concept of this missing minor 7th chord so the whole tonality has got this gap in it and I'm completely fascinated by this.
L. How did you get you into music?
C. I can't really say there was 'a moment' – I sort of slid into it and found it was music.
We had a band in school; in the class everyone would play something. I played a snare drum one week and the teacher said I played it well. The next week she gave me a triangle. And I said, where's the snare drum, that's mine! And she said, no it's not. I was completely like, I should be playing the drum! I wanted to get better at it.
I started Piano lessons when I was about 4 and when I was about 8, I played a duet with a thunderstorm on a piano and these were things I didn't really think about, I just did them.
Also My Dad had a great collection of 78s, Ben Webster, Teddy Wilson, Ben Webster, Lester Young, Ella, Art Tatum, Coleman Hawkins, loads of big bands, Duke Ellington, Count Basie…
L. That's obviously been quite a big influence?
C. Yes and he took me to see amazing stuff, like Nat King Cole.
Then when I heard THE WHO, there was like a baptism of fire – that's MY music! Not my Dad's music!
Music has been around me all my life- it was my rebellion. That inner space when I was playing, I kept secret from my parents, from everybody actually. I'm not quite sure what it was… It was the space I wanted to use to change things – like that Greek thing, like when the mode of the music changes. I sort of feel, sometimes when I'm really into it, or mostly when I'm hearing something amazing, that music holds everything.
L. Is there a particular collaboration or place you've worked with that has had an effect on who you are and what you do? That's had a real impact in your development?
C. l was making music in Acre Lane in Brixton for a long time, and I learnt a lot. When I lost connection with that space, I started working on youth music projects and disability arts projects at Lewisham Academy.
I'd become a Dad with three small children and it meant for once I wasn't away all the time and could earn regular money. I still made albums and wrote songs. Some people think I seemed to disappear. I don't think of it like that at all. I had a huge development creatively, spiritually and emotionally, just by being a Dad.
I did 'T in The Park' with Hot Chip, I was filling in for their regular drummer and I'm backstage in this big field and I see this guy running across the field with his mobile in his hand, saying " I'll call you back, I've got to go, I've just seen my drum teacher!"- He was playing with Paloma Faith, it was someone I'd taught years ago.
L. That's surely a great feeling.
C. It's a fantastic feeling. It's also against this academic thing- it's about making it about where you live, the people where you live. The actual sounds I make, feel like they belong to the people around me.
L. It's part of life, a way of life.
C. It becomes a way of life yes. Going to the shops becomes part of the music. The Arthouse too has been a big influence.
L. It is a community here.
C. Yes it is. It took me a couple of years to get it. You can learn here, you can share things here, what more can you ask for! And it's only 10 minutes from where I live.
L. It does make a big difference doesn't it. Having a studio here has changed my life already and I've only been here since the summer.
L. Are you working on anything particularly at the moment?
C. Yeah, I've gone back to the piano. When you play acoustic piano, the sound bathes the body, you're completely inside the sound. I've got an album called, 'Begin Anywhere' and that's all at the piano.
Then I've got this 30-minute thing called, 'Snare Drum Roll' and I'm playing that acoustically in places like cathedrals. I excite the acoustics of the space via the snare drum. More like a sculptural piece.
Also this slightly out of control electronics thing, I'm doing that a few times in the next few months- I call that, ' Zig Zag and Swirl'
And THIS IS NOT THIS HEAT, going back to things I made 40 years ago.
L. That must be interesting to re- visit. Seeing how it stands up and is still relative now, that those relationships can still exist. Finding a new audience for something you did that was important.
C . We were originally a three-piece. One of us has died, which is why we are called, THIS IS NOT THIS HEAT. We've now added, sometimes four or five others and my daughter is in the group.
The first album we made, Deceit, was in response to where we were at in the world. The cover is a face, which is a mushroom cloud with an American Flag.
L. Which is very pertinent now!
C. It is and suddenly, it's like, "Oh my god we are singing about the Roman Empire!" but really we are singing about the American Empire. We actually sing The American Declaration of Independence and we've added the final lines of the poem at the foot of the statue of Liberty, which is all about, 'bring me your huddled masses'. The true sense of irony inside doing this music is, 'WOAH! – We have to do this music'! So we are doing it, but the sense of of going backness is spiritually… although it's fresh and new.
L. Just do it why you feel it's worth doing it, you've got all these other interesting things to develop.
Sounds good to me.
C. Yes. Absolutely, I'm very lucky at the moment.
END