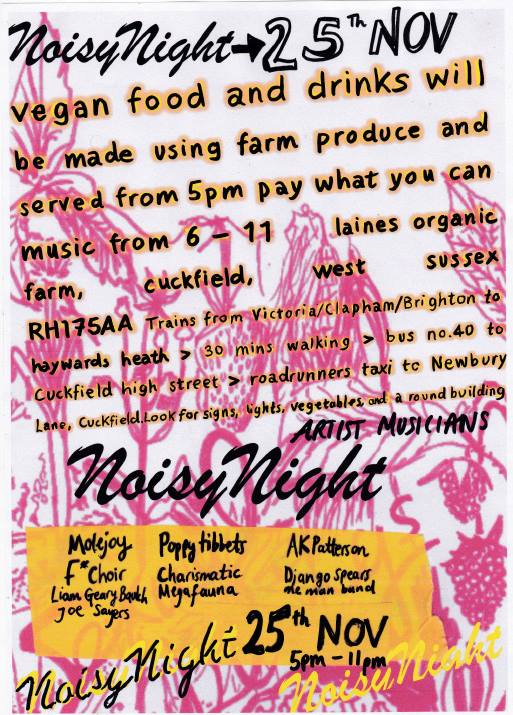 Members Kerri Jefferis and Sophie Chapman are playing with their band Molejoy.
Emerging artist musicians will share their sounds on this cosy noisynight at Laines Organic Farm… Once again The Round Building, (known locally as 'The Pumpkin Palace') will host an evening of fun, food, fire and friends. Suggested donation entrance £2-£8/pay what you can.
Vegan food and drinks will be made using farm produce and sourced from a local brewery served from 5pm on a suggested donation basis.
25th November 2017
5pm-11pm
Music will begin at 6pm and run until 11pm.
F*CHOIR
MOLEJOY
CHARISMATIC MEGAFAUNA
AK PATTERSON
POPPY TIBBETS
DJANGO SPEARS O-M-B
LIAM GEARY BAULCH
JOE SAYERS
Last few trains back to London depart from Haywards Heath at 23.26/23.30/23.58.
Laines Organic Farm, Newbury Lane, Cuckfield, West Sussex, RH175AA.
Trains from Victoria/Clapham/Brighton to HAYWARDS HEATH > 30mins walking to Cuckfield Village > bus no.40 to Cuckfield High Street > roadrunners taxi 01444443300 is £5.50
Once you've reached Newbury Lane look and listen out for signs/lights/vegetables/The Round Building! Welcome!!
Facebook page for the event
Kerri Jefferis
Sophie Chapman