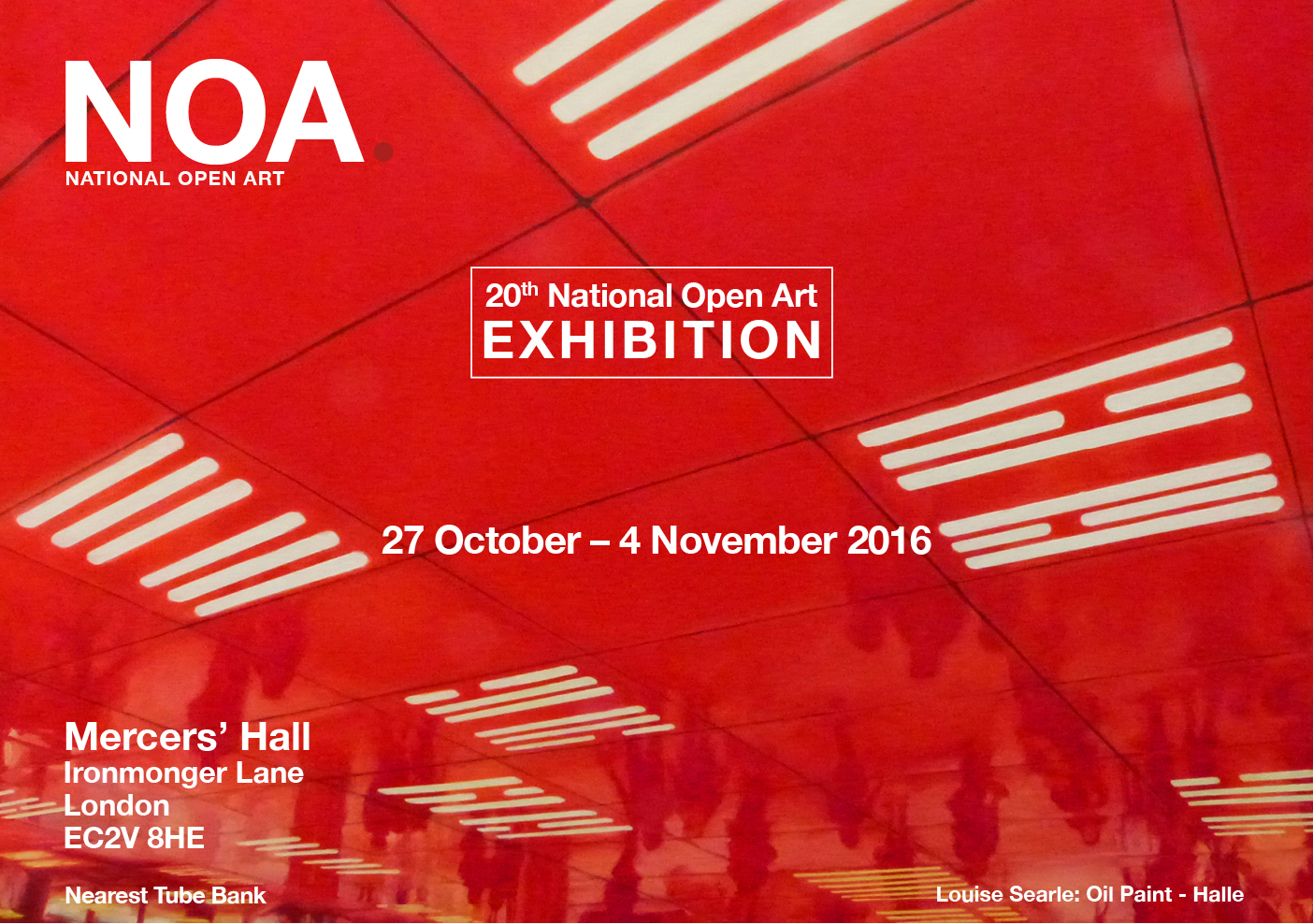 27th October – 4th November 2016
National Open Art is bringing its 20th Exhibition to the heart of the City this autumn.
Curated by Robin Muir, following his hugely successful curation of the National Portrait Gallery's Vogue 100 earlier this year, this free admission exhibition at Mercers' Hall features 160 selected paintings, drawings, prints, photographs, wall hung installations, digital art pieces and short films.
The artworks have been selected by an expert panel, including Robin Muir and Royal Academician David Remfry, from thousands of pieces by the very best professional and amateur artists working today in the UK and Ireland.
More than £50,000 worth of prizes will be awarded to 35 artists, including for the hotly anticipated Best Emerging Artist and Best Young Artist, when Lord Mervyn Davies opens the exhibition on Thursday, 27 October.
Winners of the children's competition, judged by Children's Laureate Chris Riddell, will also be announced when the exhibition opens.
Mercers' Hall
Ironmonger Lane
London EC2V 8HE
27th October – 4th November 2016
Opening times
October | Thu 27th & Fri 28th | 10am – 3pm
Sat 29th & Sun 30th | 10am – 4pm
Mon 31st | 10am – 6pm
November | Tue 1st & Wed 2nd | 10am – 6pm
Thu 3rd | 10am – 5.30pm Fri 4 | 10am – 6pm
Free Admission
All exhibition and shortlisted works are available on the online Galleries.
Please contact us if you would like to purchase works from any of our artists.
We are in constant touch with all our artists who will readily undertake commissions.
By Underground:
Bank Station on the Central, Northern, Waterloo & City and DLR
Exit to Princes Street
Walk west on Mansion House St towards St Mildred's Ct (125 ft)
Continue onto Poultry (338 ft)
Turn right onto Old Jewry (177 ft)
Enter from Cheapside or Gresham street
Total about 3 minutes
By Bus:
Routes 8, 25 and 242 travel along Poultry
Routes 11, 21, 23, 26, 43, 76, 141 and 388 travel past Bank station.
Click here for a Google Map