Lily Hawkes and Holly Hendry
19th February – 2nd March 2014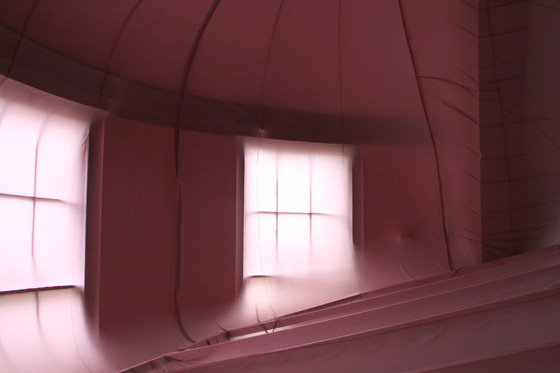 'Domming' is a graffiti term referring to a colour mixing technique created by spraying one colour over another while it is still wet, then rubbing the two together. The term is derived from 'condom', referencing its synonym 'rubber' and is sometimes called 'fingering' as it is commonly done with one's fingers.
Domming presents the work of Lily Hawkes and Holly Hendry, whose sculptural installations deal with important notions of process, including the physical manipulation of material and colour. Influences of architecture and scale are employed in both artist's work, involving the viewer in an experience of simultaneous confrontation and seduction through the sculptures that are presented. Forms from the inner body accompany silhouettes from urban cityscapes, dry and soft materials are placed in juxtaposition with the taught and rubbery, squashed against the framework of the gallery or existing as islands within the space, mimicking the social or physical structures at the core of their creation.