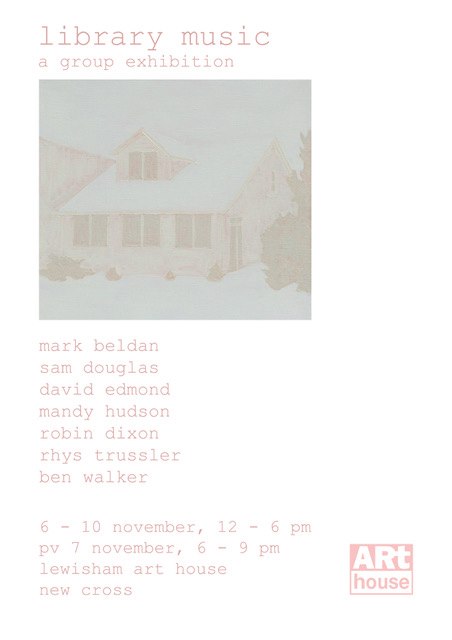 6 – 10 November, Wed – Sun 12 – 6pm
Private View: Thursday November 7, 6 – 9pm
Mark Beldan, Robin Dixon, Sam Douglas, David Edmond, Mandy Hudson, Rhys Trussler, Ben Walker
Library music is an exhibition about time, memory and place. Seven painters explore aspects of suburban, edgeland and rural landscapes, wandering from faded modernity and future ruins to idyllic villages, from eerie landscapes and spectral houses to utopian visions, bringing together different ideas of folklore, the unknown, the weird, as well as hazily recollected cultural memories.
The landscapes depicted may be mundane, featureless or interchangeable, yet there is often an atmosphere of realised or implied unease or suspense. They can seem familiar, reassuring, yet also unsettling or eerie. The notion that the familiar, the everyday, could carry something that remains hidden or somehow becomes significant, lies at the heart of much of the work.
Alongside the external landscape paintings, on a more interior level, are works that depict sites of creativity and alchemy with views of surrounding woodland, children on listless afternoons stuck in a perpetually unsettling 1970s, and shadowy depopulated spaces inhabited only by flowers.
Although each painter uses a different visual language, their paintings share a sense of something having been discovered – images lost and found during the painting process, and a way of using paint that calls attention to the medium itself, and an understated, quiet atmosphere. The idea of simplicity is fundamentally important to the work featured, and it's very much at the root of what makes still visual imagery so powerful.
Mark Beldan (born Toronto, lives and works in London) studied at Queen's University at Kingson, Canada (BFA, 1999) and at Central Saint Martins College of Art and Design (MA in Fine Art, 2002). His paintings have been exhibited at Guest Projects in London, Rye Creative Centre in East Sussex, and MOSTYN in Llandudno. In 2017 and 2018 he was an artist-in-residence at Artscape Gibraltar Point in Toronto. He also hosts the Skelf Podcast, a quarterly series of audio interviews with other artists.
David Edmond was born in Kingston, Jamaica. He lives and works in London. His paintings have been shown in many UK exhibitions including – the Royal Academy Summer Exhibition 2019 (selected by Jock McFadyen) – Creekside Open 2019, London (selected by Sacha Craddock) – Studio 1.1 Group Show London, 2019 – New Art Projects London, Group Show, 2018 – Columbia Threadneedle Prize, London, 2018. His work was published in Michael Petry's book 'Nature Morte' Thames and Hudson.
He attended the Turps Banana full-time painting programme between 2014 and 2016. He graduated from the Royal College of Art with a MPhil in Printed Textile Design in 1995 and ran his own design business selling designs internationally.
Robin Dixon lives and works in London. He has exhibited in the UK and internationally.
Exhibitions include: The Immaculate Dream, Collyer Bristow Gallery, London 2019, John Moores Painting Prize, Walker Art Gallery, Liverpool 2014; MK Calling, Group Show, Milton Keynes Gallery 2013; Luna Park, Lion & Lamb Gallery, London 2012; Jerwood Contemporary Painters, Jerwood Space, London 2007;He studied at Maidstone College of Art (KIAD).
Sam Douglas has exhibited widely since graduating from the Royal College of Art in 2007. Recent exhibitions include Contemporary British painting at Yantai Museum, China, We are Building a new world, Studio 1.1, London, The Turning world at Charlie Smith London, and Transpositions at St. Petersburg Museum of Nonconformist art. Solo exhibitions include Wayfarer at Carslaw St. Lukes, London, Remnants at the Royal Hibernian Gallery, Dublin, New paintings at The Cross Gallery, Dublin, and the Corn exchange gallery, Edinburgh. Competitions include The East London painting prize, The Threadneedle prize, The RA Summer Exhibition.. Residencies include Sumburgh head Lighthouse, Shetland Rost, Lofoten, Norway, NKD Dale, Norway, NCCA, Kronstadt, Russia, CCA Andratx, Majorca, Pushkinskaya-10, St. Petersburg, Russia, Pedra Sina, Funchal, Madeira, Brigus artist in residence, Newfoundland, Canada, Cill Rialaig, co. Kerry, Ireland, The Curfew Tower, Cushendall, co. Antrim, Ireland, and Burren college of art, co.Clare.
Mandy Hudson lives and works in London. She studied at Maidstone College of Art and has exhibited in group exhibitions in the UK and internationally; These include The Trinity Buoy Wharf Drawing Prize 2019, Re-Assemble, Collyer Bristow Gallery, 2019, The Marmite Painting Prize 2016; MK Calling, MK Gallery, Milton Keynes; Souvenirs, Fieldgate at Angus Hughes, London; One day, Gallery Corridor, Reykjavik. and the Contemporary Art Society's ART futures 2007 held at Bloomberg SPACE, London.
Rhys Trussler is a graduate from the acclaimed Turps Banana Studio Painting Programme (2015-17) and has a B.A. (hons) in Fine Art from Winchester School of Art (1998-2001). Recent exhibitions include Turps Summer Show, Art Space Bermondsey, London (2017), Running With The Wolves 35Blumen, Kreffeld, Germany (2017) and Helical Swirl, Studio 180, London (2016). His work is influenced by his interest in horror films, vintage Sci Fi novels and the Western Occult Revival of the early 20th century.
Ben Walker was born in Cheshire and lives and works in Kent. He is a painter with an interest in English landscape, folk horror , Factory Records and a distinct era of British culture and TV programmes and films – 1970s and 80s educational programmes for schools, childrens' tv programmes and public information films. He studied at Sheffield Hallam University and Wimbledon School of Art. He has exhibited widely, including at Transition Gallery and Charlie Smith London, and in the Marmite Prize, and in 2012 won the Jack Goldsmith Painting Prize. He studied on the Turps Correspondence Course 2018-19, and has had work selected for Bloomberg New Contemporaries 2019.