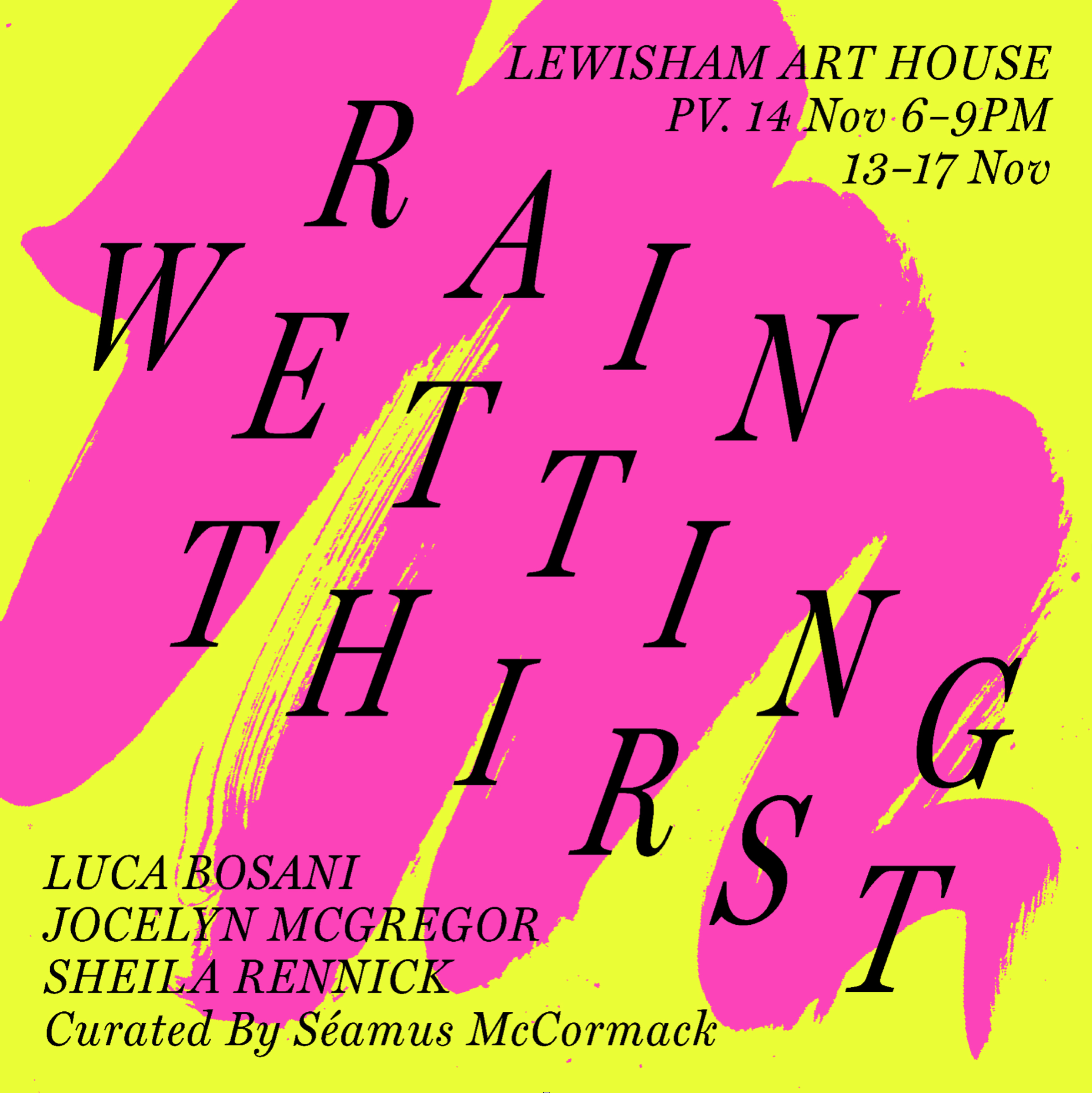 15th – 17th November 2019
Luca Bosani, Jocelyn McGregor & Sheila Rennick
Curated by Séamus McCormack
15th – 17th November
PV: Thursday 14th November, 6-9pm
Rain Wetting Thirst, featuring artists Luca Bosani, Jocelyn McGregor & Sheila Rennick and curated by Séamus McCormack explores how taste, identities, aesthetics and class culture and made manifest through absurd images, fragmented forms and complex genders. It considers how disembodied bodies can be (re)presented, and how commodification through popular culture and particular contexts and stimuli can blur our individual sense of self. Caricature and satire are used by these artists to create conflicting identities, asking how sensations of desire and aversion can occupy the margins between intimacy, repulsion, fetish and fantasy. Various moments of awakening – erotic, alarming, frightening, arousing and liberating – question the fluid nature of identity. The three artists in the exhibition set up situations that aim to question how our desires, represented by fragrances, images, words and actions, might be satisfied but also remain unfulfilled, thirsty even.
Exhibition Events
Zine Making Workshop
Wednesday 13 November 6.30-9.30pm
Studio Novel designer Ashley Kinnard and artist Jocelyn McGregor will lead a zine-making workshop based on some of the themes in the exhibition with an introduction by curator Séamus McCormack. Materials and beers provided. Take home a free zine with you
To attend for free please book here
Private View
Thursday 14 November, 6-9pm. All welcome!
Join us for a drink to celebrate the opening of 'Rain Wetting Thirst', which will include a new performance developed by artist Luca Bosani and new works by Sheila Rennick and Jocelyn McGregor.
Artists' Workshops
Friday 15 November 2-6pm
Experimenting with Performance: Rhythms is a participatory workshop led by artist Luca Bosani focusing on performance making and rhythm. Through the introduction to three primary elements – repetition, stillness and inconsistency – the participants are invited to experiment with different performance rhythms, in collaboration and individually.
Exhibition curator Séamus McCormack will lead an artist-led peer support workshop on ways of discussing and supporting practice. This participatory session consists of various exercises and will look at self-positioning, reflection and feedback on direction.
Aimed at emerging artists and students, it is advised that artists attend both sessions.
To attend for free please book here
Supported by:
Art Council England Logo Black
Artists' and Curator's Bio
Luca Bosani is an artist based in London. Solo exhibitions and performances include: 'Too Early to Love You, Too Late to Kiss You', Tate Britain, London, 2019; 'Knaves of Radiance (paintings)' Kensington and Chelsea Town Hall, London 2019; 'Knaves of Radiance (Bolan edition)', London, 2018; 'Performing the unknown', Hortensia gallery, KCC College, London, 2018. Group exhibitions include: 'Singolar Tenzone II', Kunstraum, London, 2019; 'Score!', Beaconsfield Gallery, London, 2019; 'Singolar Tenzone', OXO tower, London, 2018; 'Knaves of Radiance (Bang Bang)', Gallery 46, London, 2018; 'Knaves of Radiance (The Bipotential stage)', Subsidiary Projects, London, 2018; 'Revolve Performance Art Festival', Uppsala Konstmuseum, 2017; 'Liberté d'action', L'Amour, Paris, 2017; 'Being alone together', Crown Building, Liverpool, 2017. 
Jocelyn McGregor is a sculptor based in Cumbria. Recent exhibitions include: Bloomberg New Contemporaries touring South London Gallery and the Liverpool Biennale (2018-19); 'A Field Guide to Getting Lost', The Art Foundation (TAF), Athens, 2018; 'Mei Yahn Yu' Kaitak Centre, Hong Kong, 2018; and 'Risky Attachments', curated by Like A Little Disaster, Polignano a Mare, 2018. Recent awards include the CVAN NW Artist Bursary 2019, finalist for the Mark Tanner Sculpture Award 2019; The Lee Alexander McQueen: Sarabande Foundation Emerging Artist Award 2017; and the Diabolique Scholarship for the Miskatonic Institute of Horror Studies (UK) in 2016. www.jocelynmcgregor.com
Sheila Rennick is an Irish artist based in London. Recent exhibitions include 'Pretty Fleshy Pain Things', with Amanda Doran at Hillsboro Fine Art, Dublin, 2019; 'Paper Cuts', curated by Kris Day; Saatchi Gallery, 2018; 'GIFT', APT Studios Deptford, 2018; 'Mrs Pig and the Ketchup', with Adam Hennessy, Josh Berry, Paul Branca, Pierre Poumet Bordeaux 2018; 'The Marmite Painting Prize, Block 336, Brixton, 2016; 'Sausage Fest', with Jemma Egan, curated by Séamus McCormack, Art Box Dublin, 2016.  Awards include: Jerwood Contemporary Painters, Jerwood Space, 2011; Marmite Prize for Painting Runner Up, 2011. Her work is in the collections of Office of Public Works Dublin and Country Bank, NYC.
Séamus McCormack is a curator based in London. Curated projects include: 'Scaffold', Bomb Factory; 'Rain Wetting Thirst', Lewisham ArtHouse; 'Jealous Wall', Luan Gallery, Athlone; 'SausageFest', ArtBox, Dublin; 'Traces', IMMA, Dublin; 'Roadkill', IMMA, Dublin. Séamus was co-curator of both 'Mobile Encounters' and 'Primal Architecture', IMMA, Dublin. He currently works with New Contemporaries and was previously at the Whitechapel Gallery, London, and the Irish Museum of Modern Art (IMMA). He has written on the work of a wide range of artists, including Haroon Mirza, Leonora Carrington, Wolfgang Tillmans, Paul Sharits, Jonas Lund, Ulla Wiggen, Christopher Williams, Janine Davidson, Elaine Leader and Jennifer Brady. www.seamusmccormack.com