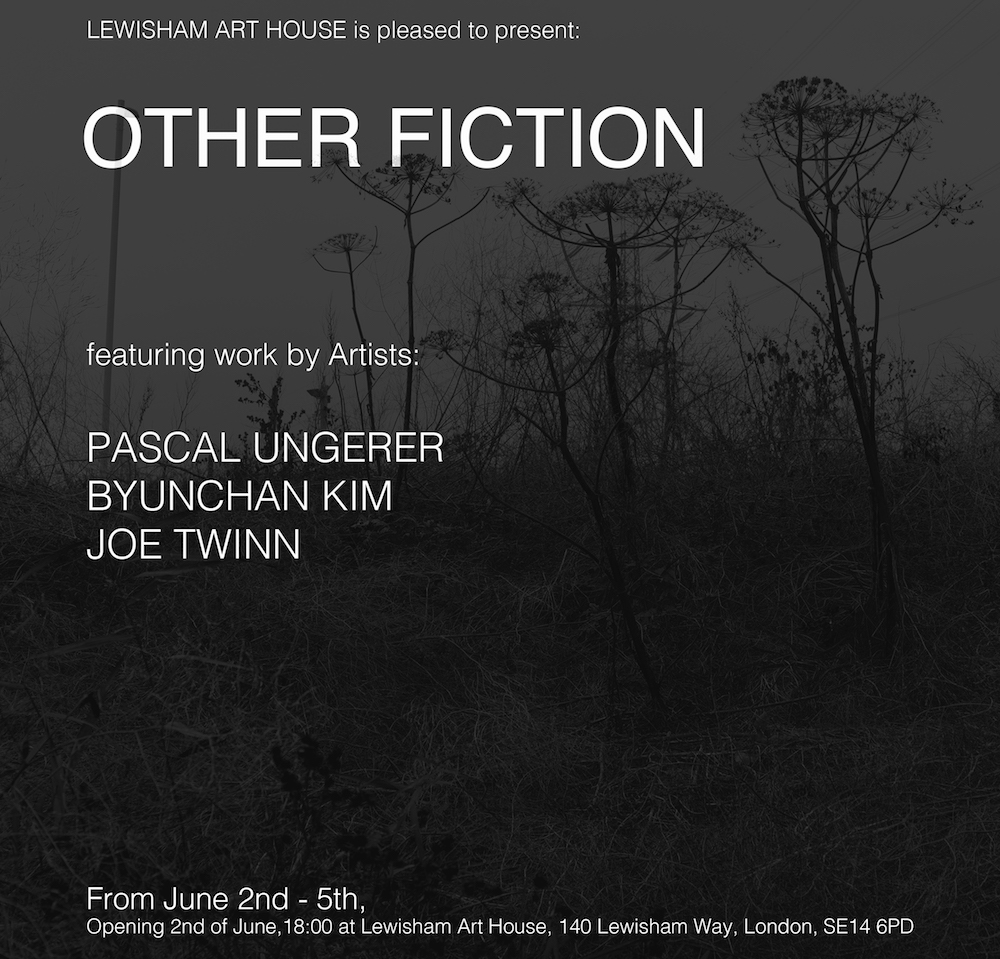 2nd – 5th June, 2017

Other Fiction is an exhibition organised by three students currently enrolled on the MFA programme at Goldsmiths. The exhibition brings together three artists, that have diverse and wide ranging practices and methodologies, into the Lewisham Art House space, where they hope to create a dialogue between these different styles and approaches to their work.
The work is not unified by a mutual thematic narrative but rather address's a multitude of different areas that overlap and have a shared concern about wider issues and subjects of interest such as place, memory, popular culture and alterity.
This synergy of diverse ideas and treatments is arranged and juxtaposed together in order to create a level of uniformity that also maintains the individual and unique characteristics of each work within a cohesive exhibition structure. The exhibition is made in the spirit of experimentation, it is without a fixed point of finality and showcases work that is open ended, adaptable and still in progress.
THE ARTISTS
PASCAL UNGERER works with a wide variety of media incorporating photography, painting, video, and sculpture in his art making process. He is primarily interested in themes based around social, geo-political or ecological issues.
JOE TWINN'S art practice spans a range of media, such as costume design, collage and painting but his primary concern is with the moving image. For the past two years he has been making short films, utilising lo-fi, D.I.Y special effects.
BYUNGCHAN KIM is a visual artist from South Korea who has recently relocated to London. He works in an interdisciplinary practice incorporating a wide variety of media. His work draws upon a range of diverse references from hip hop and popular culture to war, history, cultural appropriation and misinterpretation.
Opening night:
Friday 2nd June 2017
6pm
Exhibition continues:
2nd – 5th June 2017
Free entry
Step-free access