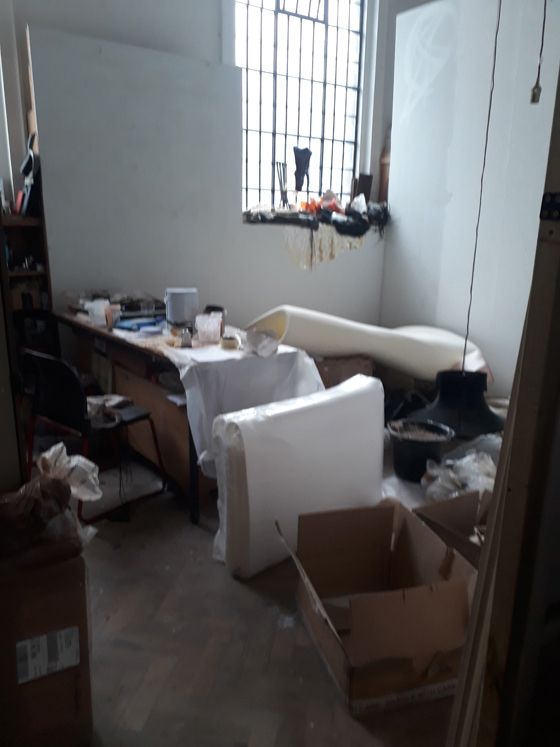 Deadline to apply 2nd March 2019
from April 1st 2019
Studio G5 (pictured above) – permanent space 173sqft £93.60 per month available from 1 April
Studio G10b (not pictured) – 6 month sublet 96sqft £53.60 available from 1 April
Both studios are partitioned spaces on the ground floor with natural light.
Deadline to apply: 2 March 2019, 6pm.
Shortlisted Applicants will be contacted for interview shortly after this date.
Please note that due to the high number of applications we will not be contacting those who are not shortlisted and will be unable to offer feedback. For the same reason we are also unable to organise viewings prior to the interview.
Application procedure:
*A statement (no more than 500 words) outlining your practice and areas of interest and an indication of how you wish to use this opportunity
*A statement (no more than 350 words) highlighting what you could contribute and how the cooperative would work for you.
* CV (no more than 2 sides of A4)
* up to ten images or for time-based work (pieces or excerpts should be no longer than 5 minutes).
* Corresponding list of titles, media and dimensions should be included (please do not send originals).
* We will accept hard copy or email applications.
If you are interested in applying for these studios please go to our website for more information about our organisation www.lewishamarthouse.org.uk
Contact: studios@lewishamarthouse.org.uk
Please note that sublets are not members of Lewisham Arthouse and cannot be guaranteed a permanent studio.