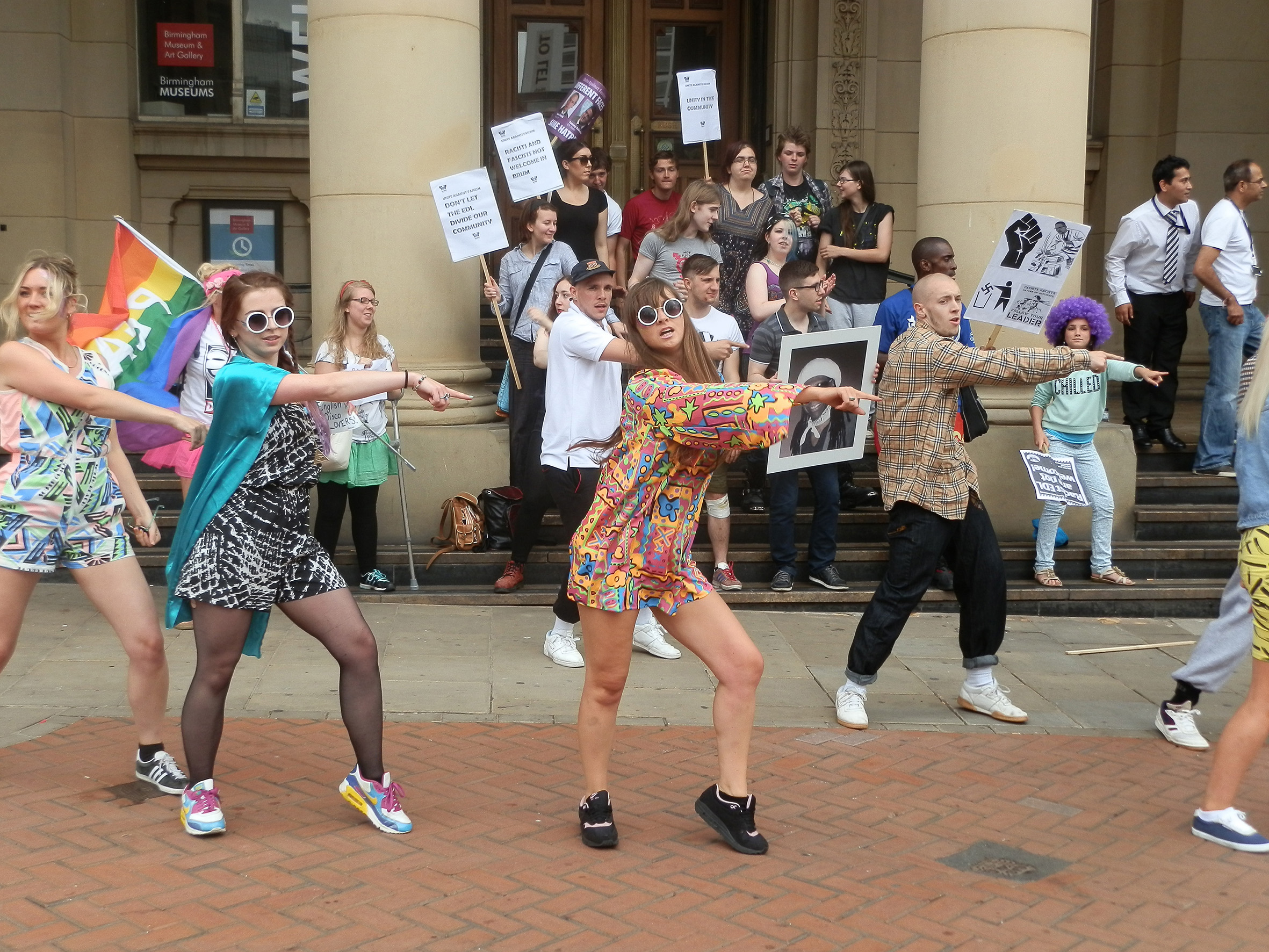 [toggle]Image credits Laura X Carlé[/toggle]
Interview
An interview with Chris Alton, our 2015 winner of the Graduate Studio Award. We have been very proud to have Chris with us, and as he enters the final quarter, we ask him to reflect about his time here.
Can you introduce yourself?
My artworks often draw upon multiple, seemingly un-associated, cultural phenomena. Whether deploying disco music against xenophobia or playing table tennis in competition with aggressive architecture, I seek to highlight unlikely parallels and produce bizarre situations. Through these, I aim to implement or imagine alternative ways of being in the world. This desire stems from my Quaker upbringing, which resonates throughout my practice.
You won this years graduate studio award, how has this impacted on your work? What do you get from working in a studio community?
Winning this award has given me the time and space to focus on and develop a number of projects that probably wouldn't have happened otherwise. The opportunity to realise an interim-project and a concluding solo exhibition (in May 2016) is fantastic as space is so scarce in London – especially free space.
The Arthouse community is great, people are incredibly generous and have often offered their support on projects, from lending kit to helping to build a stage – complete with sparkling curtains, lighting and mirrorballs.
Are you a self-taught artist or have you been to art school? Has this helped shape the artist you have become?
It's impossible to imagine the hypothetical artist that I would have become if I'd pursued a different route, but I don't think that my time at art school was what shaped me. I'd like to think that my practice has been influenced more by my upbringing as a Quaker and by encounters with particular people and artworks.
Which exhibition have you visited which made the greatest impact on you and why?
There are two. I saw them at around the same time; during the summer of 2012, between my first and second years of University. The first was Yael Bartana's And Europe Will Be Stunned, a trilogy of films following the rise of a fictitious political movement, called the Jewish Renaissance Movement in Poland. The second was Joy in People, Jeremy Deller's solo show at The Hayward Gallery. These exhibitions triggered a pretty radical change in my own practice by showing me that art could actively engage with society and its current issues.
Who and/or what inspired you to become an artist?
My Mum.
Discuss a recent project, exhibition or event you have been involved in.
I had my first solo exhibition in September 2015 at the Edith-Russ-Haus in Oldenburg (GER). I won one of two emerging media artists awards with my ongoing project English Disco Lovers (EDL) (2012 – present), a satirical campaign that redeploys the utopian vision of disco music in opposition to the English Defence League. The exhibition featured photographs, posters, videos and other materials from the project, as well as a 4 meter-wide, glittery hashtag.
Do you see collaborative practice and working with others as an important part of your practice?
Absolutely, I often develop works through conversations and collaborations with a number of people. Recently I've been trying to develop a more inclusive crediting system for my projects, so that the people involved are acknowledged and thanked. It works in a similar way to the credits at the end of a film or TV programme.
How do you use the studio and what you do in there? Do you have studio rituals?
I always begin by making a coffee, the Arthouse is pretty cold in winter and something hot with a little caffeine gets me off to a good start. The wifi in my space is dreadful, so I often take a little wander down the corridor to answer my emails and buffer an album. Recently I've been listening to a lot of mid-'60s rock. Then I crack on with whatever I'm working on at that time, which tends to be pretty varied – I could be writing a script, editing photos, trying out wallpaintings or making watercolours of shells.
How does the studio become a part of your everyday life and work?
I actually find that it's a place to get away from my everyday life. Instead of doing the washing up, scrolling through endless cat memes or alphabetising the book case, my studio is a place where I can put the distractions of home to one side and focus on my work.
What are you working on at the moment? Do you have any forthcoming exhibitions to promote?
I have my first solo exhibition in London opening on February 25th at xero, kline & coma. It's a project that I've been working on for over 7 months now, in which a fictitious band is used as a vehicle to explore the exploitation of post-colonial countries as tax havens.
Will you be showing work at Open Studios? If so, what can the public expect to see?
My studio, slightly tidier (but not much tidier) than it normally is. I'll probably empty the bin. I have lots of diagrams and mind maps on the walls, along with exhibition floorplans, scribbled ideas and simple doodles. There are a few finished pieces hanging around, but it's mostly populated by work in progress and fresh ideas that may never get realised.