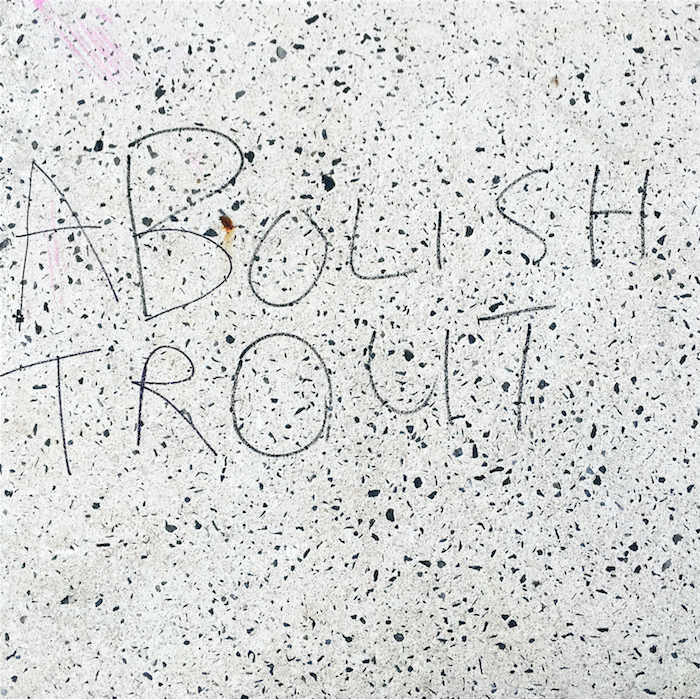 19th and 20th November 2016, 10am – 4pm
Preview: Friday 18th November 2016, 6-9pm
Craig Coulthard / Peter Donaldson / David Maclean
Abolish Trout is a group show of new work by three Scottish artists, all living and working in London. Originally graduating together from Edinburgh College of Art in 2002, these three friends present new work consisting of sculpture, ceramics, textiles and painting. Taking its title from a doctored piece of anti-immigrant graffiti; (originally reading 'Polish Out') Abolish Trout is an opportunity for the artists to exhibit their similarly subtle, humorous and thoughtful creative interventions to a new audience.
Craig Coulthard (b. Rinteln, West Germany, 1981) lives and works in London. He studied at Edinburgh College of Art, and was a co-founder of The Embassy gallery in Edinburgh in 2003. His work has been exhibited at Atelier Hoherweg Dusseldorf, Ingleby Gallery Edinburgh, Camden Arts Centre London and Collective Edinburgh. Recent shows in include The Drummer & The Drone as part of the Edinburgh Art Festival and Generation:TG on the Travelling Gallery. In 2009 Coulthard was awarded the £460,000 Scottish Commission for Artists' Taking the Lead, part of the London 2012 Cultural Olympiad. His work, Forest Pitch, completed in 2012, saw the construction of a full-size football pitch in the middle of a spruce forest. He also writes and records music as Randan Discotheque.
Peter Donaldson (b. Edinburgh, 1980) lives and works in London. He studied at Edinburgh College of Art, and the Royal Academy Schools, where he is currently a sculpture tutor. He was recently selected for the East London Painting Prize and the ArtWorks Open. His work has been shown at TAP Southend; the Royal Academy of Arts; Modern Art Oxford; the ICA; Mizuma Art Gallery, Tokyo; and Museo Civico di Rovereto, Trento, Italy. He was awarded the Deutsche Bank Award for Fine Art in 2010.
David Maclean (b. Perth, 1980) lives and works in London. He studied at Edinburgh College of Art and in 2003 co-founded the Edinburgh gallery The Embassy. He moved to London to study at Chelsea College of Arts where he formed the music group Django Django in 2007. The band have gone on to record two albums, tour internationally, and in 2012 were nominated for the Mercury Music Award. Maclean often directs music videos and designs record sleeves for Django Django. Recently he has recorded an album with Damon Albarn's Africa Express in Mali and this year worked on KT Tunstall's latest album 'Kin'. In 2014 he founded his own record label, Kick and Clap. He has recently collaborated with artists such as Haroon Mirza and George Henry Longly, and has scored music for the Royal Shakespeare Company and the Film Four feature, Slow West.
Free entry
Step-free access